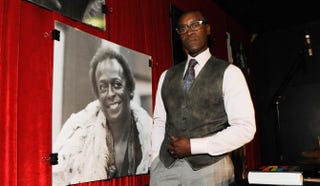 Don Cheadle is set to play legendary jazz trumpeter Miles Davis in a biopic that the actor co-wrote and is also slated to direct. BiFrost Pictures told the Associated Press on Wednesday that it will finance and produce Kill the Trumpet Player. Cheadle has been trying to make the film for years, AP reports.
The production is set to begin in June and will be Cheadle's directorial debut. The movie will not cover the span of Davis' life, but will focus on the period when Davis retired from making music and then re-emerged in 1979.
Ewan McGregor will play the Rolling Stone journalist who helped Davis retrieve his music, and Zoe Saldana will play Frances Davis, one of the trumpeter's wives. 
The film is being made with Davis' family, and former Davis collaborator Herbie Hancock will also be involved in production, AP reports.
Read more at Associated Press.