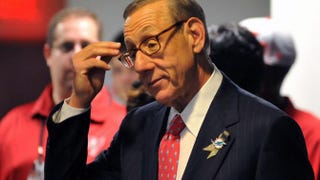 Jonathan Martin, the Miami Dolphins offensive lineman who left the team after claims of being bullied, has most likely played his last downs with the Dolphins, a source told ESPN.
Martin is expected to meet with Dolphins owner Stephen Ross, who has been in communication with Martin via text messages since he left the team.
"I'm going to meet with Jonathan Martin face to face and hear what he has to say," Ross said Monday at Raymond James Stadium before the Dolphins game against the Tampa Bay Buccaneers. "Then, I will deal with it from there. So much has been said about a lot of different things," ESPN reports.
According to ESPN, Ross describes the situation as a "nightmare" and is not happy with the negative media attention the situation has brought. Ross has promised to make changes throughout the organization following the NFL's investigation.
In an interview with Fox Sports, Richie Incognito admitted that he left racial slurs and death threats for Martin via voicemail and text message. Incognito also claimed that this behavior was a part of Martin and Incognito's communication within their friendship, and that Martin had left threatening text messages for him as well.
Incognito explained that in the Dolphins locker room culture, there exists a world of vulgar language and inappropriate topics that definitely wouldn't fly outside of the locker room doors.
Ross was shocked to learn what was going on in his facility.
"I was appalled. I think anybody would be appalled," Ross said. "When you first read that text that was reported, to me I didn't realize people would talk, text or speak that way," ESPN reports.
Ross is setting up a task force to improve the culture within the Dolphins' locker room and has announced that the group will include former coaches and players like Tony Dungy, Don Shula, Dan Marino, Jason Taylor and Curtis Martin, ESPN reports.
Read more at the ESPN.