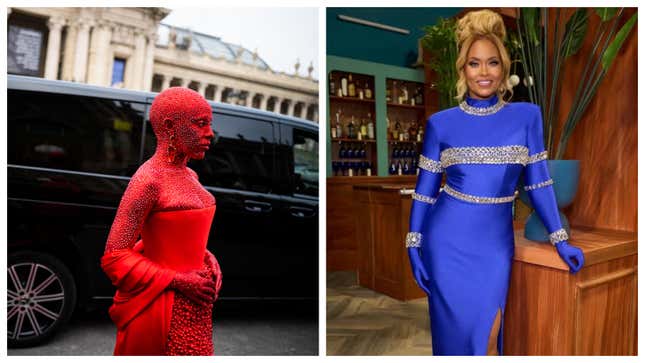 There is on person saving us from our fashion-drama drought? Doja Cat. Her all-red Schiaparelli moment at Haute Couture Week 2023 shut the event down! The "Woman" artist spent five hours sitting whilst legendary makeup artist Pat McGrath's idea came to life: 30,000 red jewels glued to Doja Cat's skin. The dedication to artistry is something rapidly being lost in the entertainment industry. Tiktok stylists can't stop talking about the simplicity of 1990s coming back, but thank God Doja is not listening.
I love when she shaded the whole internet one day after her all-red appearance at the Victor & Rolf show. She had read that some people were upset that her all-red look didn't include false lashes. So, the next day she used fake lashes to create eyebrows, a mustache, and a goatee, proof again that fashion is about expression and fun. Oh, the fashion drama.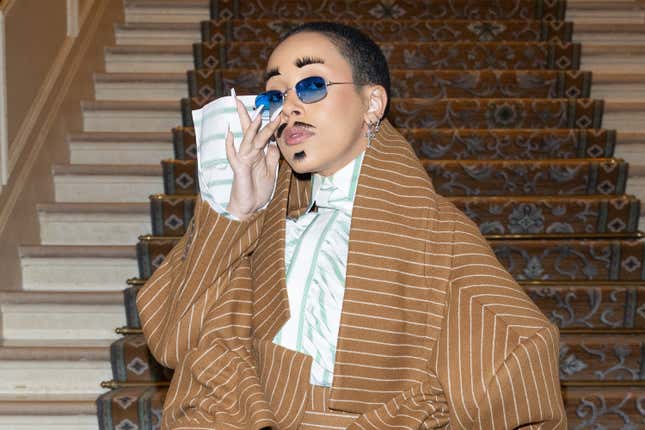 On the other hand, another fashion moment took social media by storm. The Real Housewives of Potomac reunion outfit pictures were released and the fashions were shocking, and not in a good way. We're looking at you, Gizelle Bryant. The all-blue gown, which color-wise looked gorgeous on her, the gown itself? Horrid. For some strange reason, the gown has unnecessary shoulder pads, two strips of rhinestone across the bust and the waist, a high neckline, and sleeves with gloves decorated with those tragic rhinestones. This is an example of the wrong way to bedazzle an outfit, and rather than coming off revolutionary and inspiring like Doja Cat, it's downright tacky.
Styling has not made the comeback post-pandemic that it should have. We are seeing the light after the Covid pandemic when we missed out on seeing glitz and glamor for over two years. Of course, all things considered, seeing costly fashions was the least of many people's worries as we struggled financially and battled with the disease. However, there was still a piece of some of us that missed seeing celebs step out and grace red carpets, and fashion shows, and look fabulous while out and about.

Unfortunately, some stars have yet to reach the mark this year, as more events start to open up post-pandemic. There was the Golden Globe Awards in January where almost every woman seemed to be allergic to a necklace, a bracelet, or even earrings! Sorry, I have an issue with celebrities being styled too plain or scarily over-styled.
Creativity is also what has been lost in styling. Doja Cat, Lil Nas X, and Lizzo are a few celebs that have continuously shown us that fashion and creativity go hand-in-hand. Something that has bothered many people on social media is the fact that these celebrities have millions of dollars to use for styling, and only pick a plain gown off the runway without any effort to try unique and funky hairstyles and makeup, and accessories.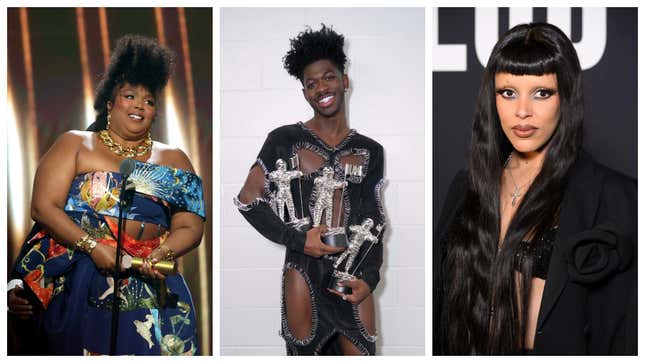 While some may argue that the simplicity in recent fashion is the indicator of wealth, I think it's simply boring. Anybody can rock a silk gown, but not everybody can sit in a styling chair for five hours getting 30,000 jewels glued to their skin. That's the dedication we need to see moving forward.
As more award shows roll out over the next couple of weeks, we'll have our fingers crossed that men will step out with something other than a plain black straight-legged suit and bow tie, and women finally bring back the flashy diamond jewelry and fun hairstyles that us regular people can only dream of trying on.