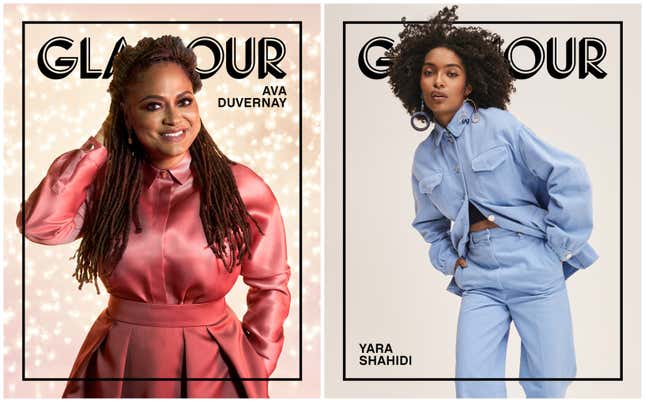 A passion for justice unites the black and brown women honored by Glamour as their 2019 Women of the Year, as Ava DuVernay and Yara Shahidi join the Women of the Refugee and Immigrant Center for Education and Legal Services (RAICES) on a list that includes Megan Rapinoe, Charlize Theron, Margaret Atwood, Tory Burch, and Greta Thunberg. (Fun fact: DuVernay and Shahidi have both also been honored with Barbie dolls in their likeness.)

This Juneteenth We Revisit The Anderson .Paak BLM Track "Lockdown"
"I am trying to disrupt systems—systems that we in this country take as gospel. We're born into them. We abide by their rules without interrogating what the rules are meant to do, who they're meant to serve. And you can't disrupt what you don't understand." DuVernay tells Elaine Welteroth inside the Women of the Year issue. "But once you understand, perhaps you engage with these things differently, no matter who you are. Perhaps you don't assume that, because it's a longstanding institution, it is right and fair, and you interrogate for yourself what you've been taught and told, and you learn to relearn for yourself."
Despite the acclaim—and award nominations—she continues to receive for her work, DuVernay tells the magazine her focus remains on telling the truth through her work.
"Sixteen Emmy nominations is not what I think of when I think of When They See Us," she says. "I think of the day that the men wept in my arms and I wept in theirs as they told me that I told their story better than they could have imagined."

"There's a lot of really beautiful work that's left by the wayside because it just hasn't pierced through the cultural consciousness," DuVernay later adds, crediting Spike Lee for inspiring her own consciousness-raising approach to filmmaking. "I'm really fortunate to be in a position now to make work that I love, with my own independent vision. And to have the kind of muscle to put it into the culture is a rarefied honor. It really is. Especially for someone that looks like me, someone that looks like us."
Actress and activist Yara Shahidi shares a similar sentiment in her discussion with journalist Lola Ogunnaike. "What remains a through-line in each and every project—and any world that I occupy—is that I want there to be a greater purpose. That purpose may be as simple as providing joy or it may be helping in the field of equity or amplifying other people's voices," she says. "But my metric for success is having an impact on something greater than myself."
"I don't think I'd be doing the work I'm doing if I wasn't constantly inspired by the other young people doing this work, by the other young people doing work I didn't even realize had to be done. I feel like we constantly educate one another," says Shahidi, currently enrolled at Harvard and spearheading Eighteenx18 to empower young voters. "Because we inherited a world in crisis, we enter this world inspired to make change."
Still, for all Shahidi's confidence, it's the strength of another black woman—mom and mentor Keri Shahidi—that most bolsters her desire to make an impact, telling Ogunnaike, "One thing I'm still trying to figure out is how to advocate for myself as strongly as she advocates for me."
"She constantly says to me, 'You deserve to be in the room.'" Shahidi says, later adding, "It's important that women of color and anyone from marginalized identities understands that they will try to intentionally unsettle you. They'll do this so that you'll spend so much of your time trying to convince people you belong that you don't get to dig in and do the work you were meant to do."
The Glow Up tip: You can read all of the 2019 Women of the Year profiles on Glamour's website.