Yeah, yeah...we know Tyler Perry retired the controversial yet enduring character known as Madea earlier this year, but she instantly came to mind when we heard about Perry's latest coup: hosting the 2019 Miss Universe pageant at his newly opened Tyler Perry Studios.
According to the Huffington Post, the former Trump-owned media property, which aired live from Bangkok, Thailand, last December, will be moving to the former Confederate army base in Atlanta for another live broadcast on Sunday, Dec. 8. While Madea likely won't be making an appearance (we can only hope), Steve Harvey will, returning to the broadcast as host for the fifth year in a row.
We don't know which of Perry's soundstages—each named for a black industry icon—the Miss Universe pageant will happen on, but it's not all glitz, glamour and still-debatable swimsuit competitions at TPS. As Stacey Abrams tweeted last week, the studio will also host the next Democratic presidential debate on Nov. 20.
What will we be tuning in for? No shade to the pageant contestants, but with the White House on the line, the debate is definitely our first priority. But in case you were wondering, it turns out Madea has indeed donned a tiara, at least once.
G/O Media may get a commission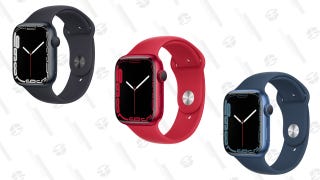 Up To $45 Off
Apple Watch Series 7