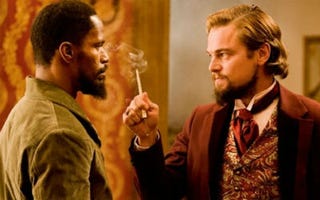 (The Root) — Director Quentin Tarantino is planning a return to the big screen this Christmas with his signature cinematic kitsch in the upcoming Django Unchained. Featuring a star-studded cast that includes Samuel L. Jackson, Leonardo DiCaprio, Jamie Foxx and Kerry Washington, Tarantino's latest brings blockbuster acting chops to the spaghetti western genre.
After being freed by Dr. King Schultz, a gracious bounty hunter played by Christoph Waltz (Inglourious Basterds), the newly emancipated slave Django (Jamie Foxx) joins forces with him to search for and rescue Django's kidnapped wife, Broomhilda (Kerry Washington).
In this trailer, which is the second one released this year (see the first one here), it's clear that Tarantino's referential style is on full show. You can hear the Ennio Morricone-esque score. Plus, the last name of Washington's character is "von Shaft," an arguable nod to the blaxploitation icon played by Richard Roundtree. 
Check out the trailer below and head over to Entertainment Weekly's website to get a play-by-play of the cryptic preview.
Previous recommendation: Catch Ava DuVernay's Latest Film.
Got ideas for The Root Recommends? Send them to recommendations@theroot.com.