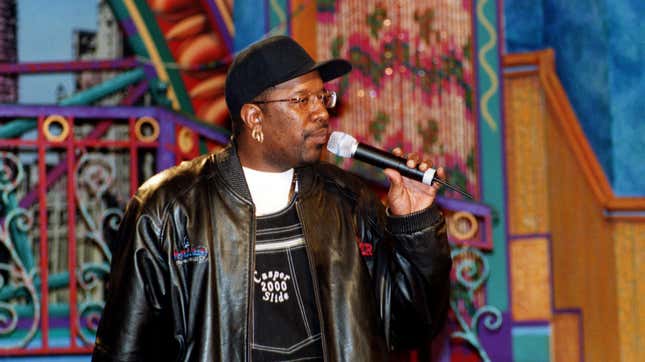 DJ Casper, the creative genius behind the legendary line dance staple the "Cha-Cha Slide" died on Monday. The news was made public by his wife Kim who revealed the popular DJ, legally Willie Perry Jr., passed away after a seven-year-long battle with cancer. He was 58 years old.
Courtney B. Vance in Heist 88 Is Our Black TV Pick of the Week
In a statement to Chicago's ABC7 station, Kim said: "Casper was a fun-loving, giving person. He was a genuine, family-oriented man. He loved Chicago with all his heart. He will be greatly missed."
The inception of the now beloved "Cha-Cha Slide" song began as a track for Perry's personal trainer nephew's aerobics class back in 1998, per Variety. But after becoming a fan favorite in the local gyms, it was re-released in 2000 where it received major radio play. By the time 2004 rolled around, the song had become a worldwide sensation.
Earlier this year in May, Casper talked about his initial disbelief that the song would become as big a hit as it would be, but that he was grateful for the connectivity it brought to people all over.
"I have one of the biggest songs that played at all stadiums: hockey, basketball, football, baseball; they played it at the Olympics. It was something that everybody could do," he told ABC7 in what would be his last televised interview.
Now this is the part where I need to get a little niche and a little culturally specific: This song has been played at almost every Black family function you can think of. From birthday parties to family reunions, kickbacks to graduations, the "Cha-Cha Slide" has been that one reliable dance that's connected generation after generation simply because of its infectious tune, catchy lyrics, and easy dance steps. I don't know when it became a cultural staple, but I'm sure as hell glad it did. It holds a special place in our hearts, just like the iconic Electric Slide and the Wobble.
It's the song you know you have to play when everybody's acting too cool and standing against the wall. It's the song you play when you want to bring everybody together. It's a song that more than likely conjures up more positive memories than others over the years and brings back a sense of nostalgia and happiness that's associated with the days of yesteryear. And for that, we thank you DJ Casper. We'll forever "cha-cha real smooth" in your honor.
The Root sends its condolences to all those who knew and loved him.