Lifetime is making a name for itself when it comes to R&B singer biopics. Earlier this summer, the network announced its Whitney Houston biopic, which will have award-winning Angela Bassett as the director and Yaya DaCosta portraying the R&B singer. On the heels of the Houston biopic announcement, Lifetime has released information about its forthcoming Aaliyah Haughton biopic.
The new Lifetime movie will be based on the best-seller Aaliyah: More Than a Woman, by former Time magazine music editor Christopher Farley. So far it has a working title of Aaliyah: Princess of R&B. The movie will star Zendaya Coleman, who most recently starred as Raquel "Rocky" Blue on the hit Disney Channel series Shake It Up Shake It Up. Coleman was also a runner-up on season 16 of Dancing With the Stars. Coleman is not only an established actress but also a platinum-selling R&B artist. Her first single, "Replay," from her 2013 self-titled album, sold 1 million copies in the U.S.
According to Lifetime, the film "follows the beautiful and talented performer's inspirational journey, from her debut on Star Search at the age of 10 to the challenges she faced during her rise to become the princess of R&B. On Aug. 25, 2001, at the height of her popularity, her life was tragically cut short when a plane carrying the singer and some of her video crew crashed after takeoff from a Bahamian runway."
Although news of the biopic is music to the ears of some fans of the late R&B singer, others aren't too pleased about the casting choice. Whereas some questioned the ethnicity of Coleman, who is biracial, others asked if there was a need for an Aaliyah movie.
https://twitter.com/Vivaciously_Val/status/478608328428228608https://twitter.com/RantingOwl/status/478634311143665664https://twitter.com/thesoulasylum/status/478625454090231808https://twitter.com/insanityreport/status/478615661250228224https://twitter.com/the_blueprint/status/478609147525877760
G/O Media may get a commission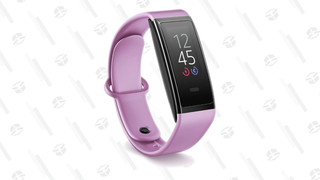 44% Off
Amazon Halo View Fitness Tracker
There are also those people wondering if the film will touch on the alleged marriage between R. Kelly and Aaliyah, who was underage at the time:
https://twitter.com/insanityreport/status/478632472607866881https://twitter.com/awwrote/status/478610444505346049
Whether people agree with the movie or even the casting, filming is currently under way, and it will air in the fall. 
Yesha Callahan is editor of The Grapevine and a staff writer at The Root. Follow her on Twitter.
Like The Root on Facebook. Follow us on Twitter.