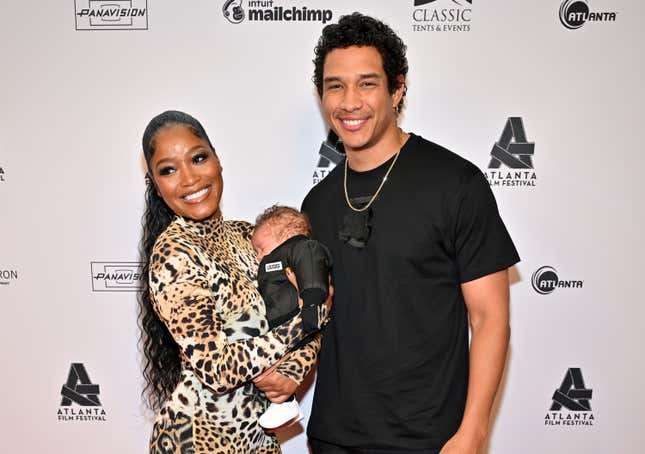 Are they or aren't they?

More than a month after an X (formerly Twitter) rant about his then-partner Keke Palmer's on-stage antics with Usher went wrong for Darius Jackson, the two have posted on social media together.

Bruiser Cast Dissects The Film's Ambiguous Ending
On July 5, 2023, Keke Palmer's baby daddy Darius Jackson seemed to feel a bit insecure and took to X to call out Palmer for the sexy outfit she wore while out with her girlfriends at Usher's Vegas residency. Predictably, fans across social media took sides with most landing on Team Bash Darius. But since, neither has publicly confirmed their relationship status, and with Keke dropping merch about being a mother, dropping an epic music collab with Usher and jumping online with more sexy outfits, fans filled in the blank with their own theories about a breakup.
But not so fast. If you had joined a prayer circle hoping that Palmer would move on from the relationship, it looks like your petitions may not have reached heaven. This past weekend Palmer celebrated her 30th birthday and dropped clues that she stuck by her man, her man, her man. In a series of hot birthday pics, Palmer showed off a stellar body with a strategically placed "3-0" tattoo, and if you look close enough there's also a January date memorialized in ink. Allegedly, this is Jackson's birthday.
Last Saturday, Jackson went on Instagram Live to show that he took Palmer out to celebrate her milestone birthday calling her his "partner in crime." The pair had some friendly and flirty banter and were all smiles. On top of that, Jackson wrote a birthday tribute with a video of Palmer and their son, Leo, "Happy Birthday to a one of a kind being. Hoping your 30s brings you many joys & triumphs!" Palmer reposted that message on her X page typing, "I love you and Leo!"
One thing we can be proud of Keke for is keeping a bag throughout the whole ordeal. Although she never formally addressed the original message from Jackson in July and the title that he still holds in her life, she never let it impact her businesses. We can be upset about the way that Jackson behaved this summer, but at the end of the day these two have a beautiful baby boy, who is only a few months old, and we would rather see them friendly with each other for the sake of the child, right?

Looks like the only thing left is to decide on a nickname for the (happy?) couple? Kekarius? Dari-ke? Feel free to drop your suggestion in the comments.