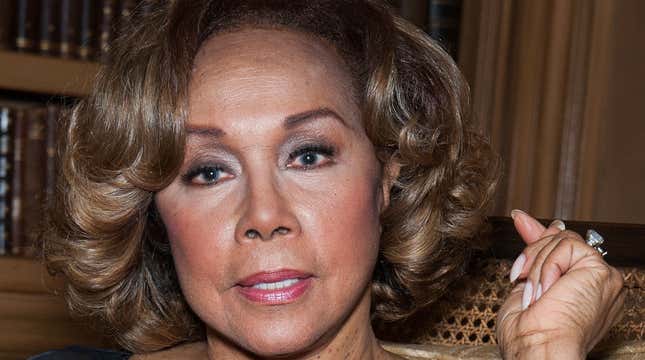 Earth has just gotten a little less beautiful.
Diahann Carroll, the outstandingly talented actress and singer, has died at the age of 84. Carroll's daughter, producer-journalist Suzanne Kay confirmed to the Hollywood Reporter that her mother died in her home in Los Angeles following a long bout with cancer.
Fighting "Lie-abetes": How To Spot And Combat Disinformation and Conspiracies In Politics | The 411: Part 2
As THR reports:
Carol Diahann Johnson was born in Fordham Hospital in the Bronx on July 17, 1935. Her father, John, was a subway conductor when she was young, and her mother, Mabel, a nurse. She won a scholarship to the High School of Music & Art, where Billy Dee Williams was a classmate.

At 15, she began to model clothing for black-audience magazines like Ebony, Tan and Jett. Her dad disapproved at first, then began to reconsider when she told him she had earned $600 for a session.

Her parents drove her to Philadelphia on many weekends so she could be a contestant on the TV talent show Teen Club, hosted by bandleader Paul Whiteman. And then she won several times on Arthur Godfrey's Talent Scouts program, where she first billed herself as Diahann Carroll.
With Julia, Carroll made history as the first African-American woman to star in a primetime television series in a non-stereotypically domestic worker role. She earned an Emmy nomination and Golden Globe for her portrayal as the titular character.

"We were saying to the country, 'We're going to present a very upper middle-class black woman raising her child, and her major concentration is not going to be about suffering in the ghetto,'" Carroll recalled in a 1998 interview conducted by the Television Academy Foundation titled The Interviews: An Oral History of Television. "Many people were incensed about that. They felt that [African Americans] didn't have that many opportunities on television or in film to present our plight as the underdog … they felt the [real-world] suffering was much too acute to be so trivial as to present a middle-class woman who is dealing with the business of being a nurse. But, we were of the opinion that what we were doing was important, and we never left that point of view…even though some of that criticism, of course, was valid. We were of a mind that this was a different show. We were allowed to have this show."
In addition to her Golden Globe, Carroll won the Best Performance by a Leading Actress in a Musical Tony for her portrayal as Barbara Woodruff in No Strings.
In 1974, she portrayed the title character in the film Claudine about a single mother raising six children who falls in love with a garbage collector (James Earl Jones). In addition to the real and raw optics of a black family and black love, the beloved film humanized black mothers who received government welfare.
In 1984, she snatched the wigs of every beautiful bitch before her as Dominique Devereaux in the captivating soap opera Dynasty.
Other notable stage and screen performances include Porgy and Bess, House of Flowers (her Broadway debut), Paris Blues, A Different World, Eve's Bayou, A Raisin In The Sun and The Diahann Carroll Show...just to name a few. Seriously, her IMDb page is epic. She also recorded several albums including Porgy and Bess (1959, with the André Previn Trio), The Fabulous Diahann Carroll (1963), Nobody Sees Me Cry (1967) and The Time of My Life (1997), among others. In 2011, she was inducted into the Television Academy Hall of Fame.
Carroll also wrote a couple of memoirs Diahann (1986) and The Legs Are the Last to Go: Aging, Acting, Marrying, Mothering and Other Things I Learned Along the Way (2008).
In a 2018 candid interview with The Root's vertical The Glow Up, Carroll talked about realizing her impact on the current boss culture of women, having fought for those types of roles throughout her life.
"I see women CEOs in every area," Carroll told The Root. "I watch them in the workplace today, and sometimes, way down inside of me, I feel this feeling that 'you had something to do with that, Miss Carol Diahann Johnson.'"
Oh yes, Ms. Carroll. You had a lot to do with it.
Carroll was married four times: to manager and House of Flowers casting consultant Monte Kay; Las Vegas clothier Freddie Glusman; magazine editor Robert DeLeon and singer Vic Damone. Additionally, she and talk show host David Frost shared a romantic relationship for three years. Carroll is survived by her daughter, as well as her grandchildren, August and Sydney.
Rest in power, queen. The universe is that much more fabulous because you graced it with your presence.