President Trump is draining the swamp, and no that's not a euphemism for the commandant in chief hitting the bathroom (well it kind of is). But if the rumors are true, Department of Homeland Security Secretary Kirstjen Nielsen (the woman on Trump's staff with a random misspelling in her own name) is on her way out.

According to the Washington Post, the only person keeping Nielsen from hitting the unemployment line is the president's chief of staff, John Kelly. Kelly is reportedly "fighting Nielsen's pending dismissal and attempting to postpone it," but Kelly's voice might not be as strong as it once was as he too may have a short shelf life in the White House.
Since starting the job in December, Nielsen has been a national embarrassment. She quadrupled down on the company line saying that placing migrant children in internment camps was totally fine and blamed Congress for the issues the White House created.
Nielsen has apparently fallen out of favor with Trump for her inability to solve the immigration issues that the White House insists is a "crisis."
G/O Media may get a commission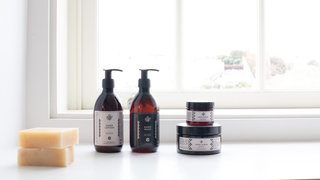 Exfoliate and Hydrate
The Handmade Soap Company
The Washington Post reports:
Trump canceled a planned trip with Nielsen this week to visit U.S. troops at the border in South Texas and told aides over the weekend he wants her out as soon as possible, these officials said. The president has grumbled for months about what he views as Nielsen's lackluster performance on immigration enforcement and is believed to be looking for a replacement who will implement his policy ideas with more alacrity.
Trump, who is known for giving folks nicknames, has reportedly taken to calling Nielsen a "Bushie," to mark her time in George W. Bush's administration. Trump has also "grown impatient and frustrated" with Nielsen because he believed we would own Mexico by now and they would've paid for the wall.
Here's how New York Magazine explains the dissolution of their marriage:
This isn't the first sign of turmoil between these two. Earlier this summer, Nielsen nearly quit after Trump chewed her out during a Cabinet meeting, the Times reported at the time. She was so upset that she drafted a letter of resignation. She never submitted it though and stayed on at DHS to oversee one of the darkest periods of Trump's presidency — the forced separation of migrant families at the U.S.-Mexico border.
All signs point to deplorable and overall fuckboy Kansas Secretary of State Kris Kobach as Nielsen's replacement, but good luck getting this anti-immigration, racist hardliner past Congress. Known as the "Most racist politician in America," Kobach is such a Trump guy that he actually pushed for the people of Kansas to have to show proof of citizenship to vote. The proposed voter law wasn't just struck down, Kobach was literally ordered to take law classes.