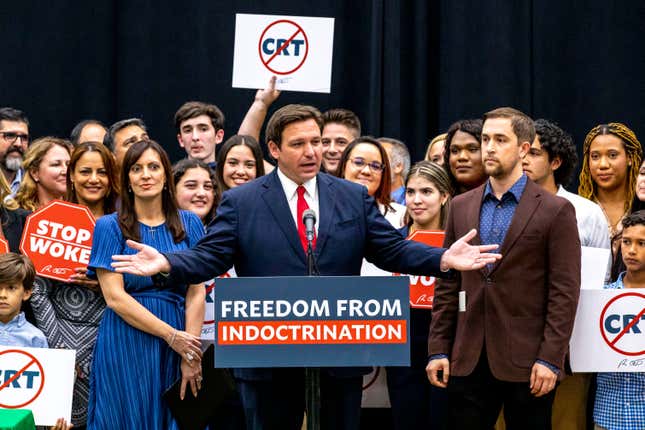 Governor Ron DeSantis is working overtime to stop free speech for educators in his governing state of Florida.

Are Black San Franciscans Getting $5 Million Each in Reparations?
DeSantis has ordered Florida state universities to send their spending data for critical race theory and diversity, equity, and inclusion programs as a part of the agenda he is pushing, the "Stop W.O.K.E." Act.
The "Stop W.O.K.E." Act stands for Stop the Wrongs to Our Kids and Employees, and it is a censoring law. It prohibits teaching environments and business settings from saying that persons of a particular ethnic group are racist and that they should feel guilty for the past actions of groups they identify. It also stops teaching that a person's race or gender determines how much privilege they do or do not have and discrimination cannot happen for the sake of diversity.
The law was temporarily blocked in November 2022 by the Tallahassee US. District Judge Mark Walker and ordering the spending data is one way he is trying to work around the blocking. He is requesting the data by Friday, January 12. The American Civil Liberties Union and Legal Defense Fund are representing college professors asking for the data request to get blocked, claiming that the data request is going against the "Stop Woke" Act block.
When DeSantis first introduced "Stop W.O.K.E." in 2021 he wanted Floridians to think that they would be doing a good thing by stopping education about race and the structures put in place to discriminate groups of people. However, the Act is a way to only oppress those minority groups more by not teaching historical context that would expose the wrongs done against them over time. When students and employees don't know history, they are set up to continue and create dangerous agendas.
De Santis requesting the data is a part of his plan to stop funding the contributions to the teaching saying in a news release, "We won't allow Florida tax dollars to be spent teaching kids to hate our country or to hate each other. We also have a responsibility to ensure that parents have the means to vindicate their rights when it comes to enforcing state standards. Finally, we must protect Florida workers against the hostile work environment that is created when large corporations force their employees to endure CRT-inspired 'training' and indoctrination."