This particular teaching moment went badly wrong when a poster put up throughout a Denver public high school drew criticism from students for being racially insensitive and offensive, Fox 31 reports.
According to the report, students acknowledged that their educators at the Martin Luther King Jr. Early College were attempting to send positive messages to inspire black and Latino students, but the execution wasn't exactly flawless.
The poster, titled "101 Things Black and Latina Girls Should Know," did include positive messages, such as, "Your body is beautiful just the way it is," but a few messages gave students pause.
"Wearing too much makeup looks like a clown," one message opines.
"'Twerkin and grinding' ain't cute," and "Experience holding a book (not a Kindle or reading on the Internet) this is so important for you to remember how far you have come as Black and Brown people," are other statements that some found offensive.
G/O Media may get a commission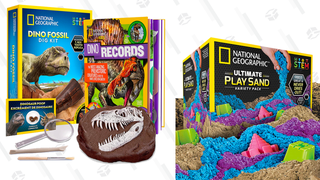 Up to 33% off
National Geographic Science and Activity Kits
"[Martin Luther King Jr.] died for us to have our rights, for black and whites to be together, all races," student Kayla Matton, referencing the name of the school, told Fox 31. "For a poster to be in a school pointing it toward specifically black and Latina girls, I don't like that."

Matton and other students approached school administration after they discovered the messages on the posters, which had been up since the beginning of the school year.
"There are some things that should not be said at all," said another student, Christina Arzate.
According to the news site, another version of the poster targeting boys and young men of color also drew attention with its stereotyping. That poster insisted that there are "easier ways to make money than playing professional sports or rapping," according to Fox 31.

"That's highly offensive, that's pretty derogatory toward very specific groups of people," student Victor Corrl told Fox 31.
As for the school district, it sent out a statement saying that it was reviewing the controversy. "Denver Public Schools seeks to ensure that the diverse cultures of our students and community are valued and respected. We understand the concerns raised by those who found the poster offensive and are reviewing this situation so that we can help prevent issues like this in the future," the statement read. "And, we will continue our work to support responsible and effective conversations about diversity in our schools."
Read more at Fox 31.