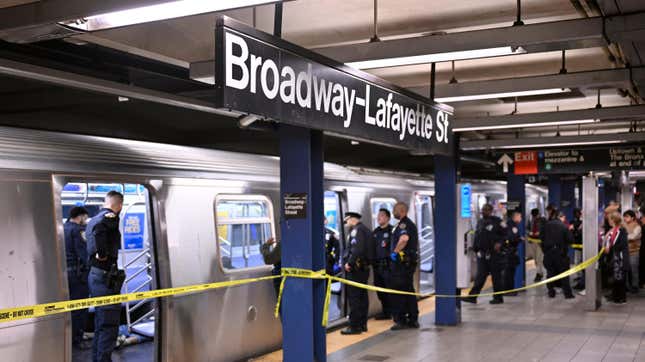 A 30-year-old Black man was killed Monday by a white passenger who grabbed him and put him in a chokehold. The violent encounter was recorded by a bystander who pulled out his phone instead of trying to help the victim. Juan Alberto Vazquez, who works as a freelance journalist, posted the horrifying footage to his Facebook page, "Luces de Nueva York."
This Juneteenth We Revisit The Anderson .Paak BLM Track "Lockdown"
The video shows the deceased, whose name has not been released, flailing his arms and legs as he tried to free himself. Onlookers said the victim was acting in a "hostile and erratic manner" toward others who were on the train. However, he did not physically assault anyone. In an interview, Vazquez shared that the man was screaming before a 24-year-old white passenger approached him.
"'I don't have food, I don't have a drink, I'm fed up,'" the victim yelled, Vazquez stated. "'I don't mind going to jail and getting life in prison. I'm ready to die.'" Police said that the 24-year-old, whose name has also not been released, attempted to restrain him. While he placed the victim in a chokehold, another man helped him by holding down the victim's arms.
Vazquez's video shows the man being held down for at least two minutes before he stopped moving. The pair held him down for about 50 seconds before letting him go. "He'll be all right," one person said on the train as others stared at the man's unconscious body. Police said they got a call at around 2:27 p.m. about a fight that had happened on the F train. When they made their way to the scene, they discovered the man motionless on the train.
The victim was transported to Lenox Health hospital in Greenwich Village, where he was pronounced dead. Law enforcement officials had not ruled the death a homicide or announced arrests as of Tuesday. The Manhattan district attorney's office will ultimately decide if any charges can be brought. To summarize, this wasn't a "fight." A Black man yelled on a train and a white man killed him for it.
Instead of people helping the victim—who was being choked to death in broad daylight—a bystander recorded it. This trend of white people cosplaying as makeshift cops as an excuse to antagonize Black people has proven to be deadly time and time again. NYC Comptroller Brad Lander spoke out on Twitter and stated:
"NYC is not Gotham. We must not become a city where a mentally ill human being can be choked to death by a vigilante without consequence. Or where the killer is justified & cheered." Hopefully, the victim will receive some semblance of justice.