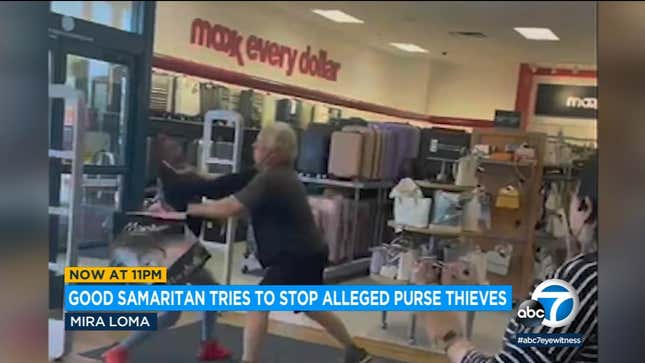 Disturbing video footage has been circulating of a T.J. Maxx customer in Mira Loma, California assaulting a Black woman who apparently tried to leave with handbags she didn't pay for.
Rings of Power's Queen Miriel, Cynthia Addai-Robinson, Plays That's So Random
In the clip, two Black women in hoodies load up on merchandise and attempt to flee the store. One woman gets away, but a man stops the second suspected shoplifter and reaches for her bags. Shortly after, a violent altercation ensues.
A witness told ABC 11 that the incident happened Sunday around 1:30 p.m. During the struggle, the customer apparently punches her, pulls her hair and throws her to the ground. The woman is able to leave the store but without the bags she tried to take. A report was eventually filed by law enforcement and so far, no arrests have been made.
It's unknown what merchandise was actually stolen. Although news outlets have dubbed the man in the video as a 'good samaritan,' he is anything but. Not only was he not a T.J. Maxx employee, he was also much bigger than the woman he attacked. Quite frankly, the bystander shouldn't have gotten involved at all.
When he did, he was appallingly violent to someone much smaller than him. Would the customer have reacted differently if the alleged shoplifter was white or a non-Black person of color? Based on the video, it looks like he was happy to have the chance to hit a Black woman since his reaction to her behavior was completely unwarranted.
Statistically, Black folks are more likely to be subjected to violence when they are suspected of criminal behavior; their guilt or innocence often doesn't matter. The man in the video isn't a hero: he is an aggressive vigilante who needs to be checked for what he did. His behavior being deemed brave isn't entirely shocking, though—this is America, after all.