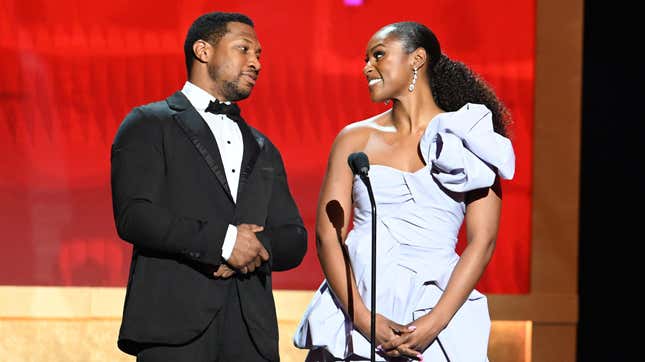 Hi. Yes. Hello, Hollywood? I'm not sure of the name, but after seeing Jonathan Majors and Issa Rae exchange some hella good comedic energy while presenting at the 2023 NAACP Image Awards over the weekend, I need to talk to whoever's in charge of the rom-com department so we can solidify a new project as soon as possible.
Why? What do you mean why? Just look at the material:
And if that's not enough, Majors has already got the perfect plot in mind.
"We grew up together. And then I come back home, and it's like 'Oh, okay.' We can start with that," he explained to Variety on Sunday. "I want to do a run through a park, you know what I mean, a run through Central Park, trying to beat her to the airport. Say we live in Harlem, then we've got Central Park and then you're running through LaGuardia trying to find Issa. Issa, you want to do it? Let's do it."
Now I don't know about you, but I'm sold just off the description alone. Of course, we can iron out the rest of the details at a later date but come one! Look at them! They're two of Hollywood's brightest and lovable stars right now. Majors is the man making the women swoon and the men mad. Rae is our gorgeous play cousin with a killer smile, flawless complexion and perfect "girl-next-door" energy.

Make. It. Happen. And better yet, let's put it in the hands of either Tracy Oliver, Malcolm D. Lee, Stella Meghie, Will Packer, or Yvette Lee Bowser to really make it pop.
I'm gonna follow up on this so whoever the powers that be are that can wield it to be so...wield it to be so. We're rooting for this, we are all rooting for this!