After months of pouring over evidence, a St. Louis County grand jury has decided that Ferguson, Mo., Officer Darren Wilson will face no criminal charges in the Aug. 9 fatal shooting of unarmed teen Michael Brown.
According to Prosecuting Attorney Robert McCulloch, the 12-person grand jury, including nine whites and three African Americans, that met and heard evidence in secret for months did not find enough evidence to charge the 28-year-old officer. According to McCulloch, the grand jury could have charged Wilson criminally with five indictments ranging from involuntary manslaughter to murder.
McCulloch has vowed to have the grand jury evidence released to the public now that the grand jury has returned its "no true bill" decision. The Brown family has scheduled a news conference for 11 a.m. CST Tuesday and urged protesters to remain peaceful.
Hours before the grand jury decision was announced, businesses closed and schools canceled all after-school activities. Several hundred protesters gathered outside the Ferguson Police Department began yelling and crying once the decision not to indict Wilson was announced.
For many, the grand jury decision not to charge Wilson came as a shocking, but expected, final blow in a case that many believed was filled with critical errors by the Ferguson Police Department and that led to demonstrations over the last three months by protesters demanding that Wilson be charged, as well as a militarized response from state and local police.
G/O Media may get a commission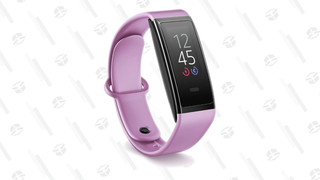 44% Off
Amazon Halo View Fitness Tracker
Witnesses argued that Brown was fleeing from Wilson when Brown was initially shot in the arm. That shot, they said, caused Brown to surrender with his hands in the air. Many witnesses claimed that the officer shot the unarmed teenager while his hands were raised.
"Hands up! Don't shoot!" became the chant shouted at many protests after Brown's death. Since the shooting, Wilson—in testimony given to the grand jury—and police officials have claimed that the shooting was provoked after Brown dived into the officer's car and struggled with Wilson for his gun. Wilson claimed that Brown was continuing to approach when he fired the shots that ultimately killed Brown.
For days leading up to the grand jury's announcement, many had been searching for clues as to which way the grand jury was leaning. Last week reports emerged that businesses in Ferguson had begun boarding up windows in preparation for riots. Then news broke that Ferguson Police Chief Thomas Jackson spoke with President Barack Obama, adding fuel to the speculation that Wilson would not be charged.
A Time magazine report, days before the announcement, noted that Missouri Gov. Jay Nixon had implemented a plan to maintain order after the grand jury decision was made.
"Violence will not be tolerated," Nixon said in a news conference at the Missouri Highway Patrol's headquarters. He noted that more than 1,000 officers had received "specialized training in crowd control … with an emphasis on the constitutional rights of the demonstrators," Time reports.
Last week Nixon declared a state of emergency for Ferguson, including the surrounding areas. He also activated the Missouri National Guard to support the state in handling protests.
According to USA Today, the governor's order will be "in effect for 30 days, puts the St. Louis County Police Department in command of the Missouri State Highway Patrol, and the St. Louis Metro Police in a unified command should unrest develop in the St. Louis suburb and surrounding areas."
St. Louis Mayor Francis Slay told the St. Louis Post-Dispatch that National Guard troops would be stationed throughout St. Louis and "will serve as a backup" to the city's civilian police. The Post-Dispatch reports that potentially, troops "will be stationed throughout the city at shopping centers and business districts."
"We do not want people to feel like they have to panic or be afraid," Slay said.
Since the Aug. 9 shooting and as a result of the subsequent protest, Ferguson has found itself in the middle of a national conversation about excessive and deadly force used by police against African-American men.
Many protesters argued that the Ferguson Police Department tried to vilify Michael Brown after the shooting, claiming that the unarmed teen had been involved in a robbery shortly before his deadly encounter with Officer Wilson.
Conflicting reports emerged shortly after, claiming that Wilson was unaware of the reported robbery but had confronted the teen and his friend Dorian Johnson for walking in the middle of the street.
Johnson, who witnessed the shooting, would later claim that the officer rode past him and Brown and told them to get on the sidewalk. According to Johnson, the officer put his car in reverse and drove back to confront the teens. When Wilson attempted to open his car door, it hit Brown's leg and slammed shut. Wilson then grabbed Brown through the window and, according to Johnson, a struggle ensued. Wilson's gun fired, according to Johnson, and Brown broke free and started to run. Johnson said that Brown stopped and turned, with both hands up, and claimed that the officer continued to fire on the unarmed teen.
Protesters gathered in the days since the shooting, demanding that police release the name of the officer involved in the shooting. During the protests, images emerged showing police in full combat gear, atop armored tanks and holding large automatic weapons. Police were heavily criticized for their response.
On Aug. 15, almost a full week after the shooting, police finally revealed Wilson's name and, during the press conference, also released surveillance video of an earlier altercation Brown had with a store clerk. 
Brown's parents believe that police officials were trying to "assassinate the character of their son" and said they were "beyond outraged" that police would connect that alleged incident to the shooting. Police officials would later acknowledge that Wilson was not aware of the alleged robbery when he confronted Brown, according to ABC News.
Stephen A. Crockett Jr. is associate editor of news at The Root. Follow him on Twitter.