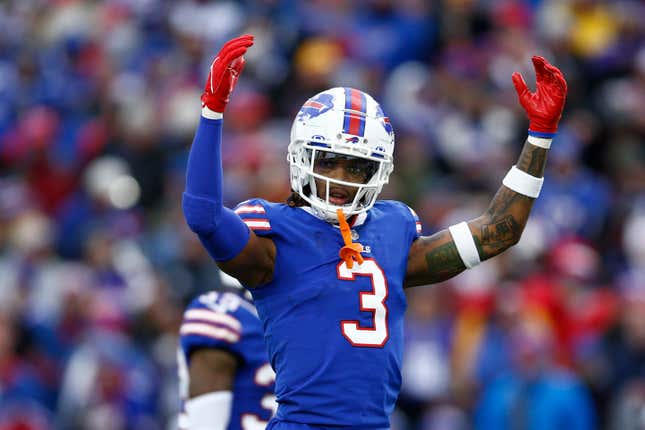 The good news about the recovery of Buffalo Bills safety Damar Hamlin continues to roll in. On Friday, the team released a statement announcing that his breathing tube has been removed and that Damar is able to communicate with his family and teammates.

Courtney B. Vance in Heist 88 Is Our Black TV Pick of the Week
"Per the physicians at UCMC, Damar's breathing tube was removed overnight," the Bills said in a statement. "He continues to progress remarkably in his recovery. His neurologic function remains intact and he has been able to talk to his family and care team. Damar Hamlin Facetimed into our team meeting today to talk to players and coaches. What he said to the team: 'Love you boys.'"
During a press conference on Friday, Bills head coach Sean McDermott explained that they surprised the team with Damar's video call since they had to arrange everything with his medical team and family. The call was put on a big screen at the team facility and the safety was met with a thunderous ovation. With the breathing tube just removed talking is still difficult, so Hamlin used a lot of hand signals and signs to communicate.
"He flexed on them…he made the heart symbol…then he gave them a thumbs up," McDermott said. "Somewhere in the midst of that—it was a little bit hard to hear—he said 'love you boys.'"
This news comes one day after Hamlin's doctors at the University of Cincinnati Medical Center held a press conference where they revealed he made "substantial improvement in his condition."
Hamlin collapsed on the field Monday night after taking a hard hit during a game against the Cincinnati Bengals. He had a cardiac arrest and was administered CPR and AED treatment. Once he was revived, Damar was rushed to the University of Cincinnati Medical Center. Because this happened during a nationally televised primetime game, his plight led to an emotional outpouring of prayers and positive thoughts for the 24-year-old player. A massive show of support led to a flood of donations to the GoFundMe for his toy drive, The Chasing M's, which currently stands at $7.8 million.