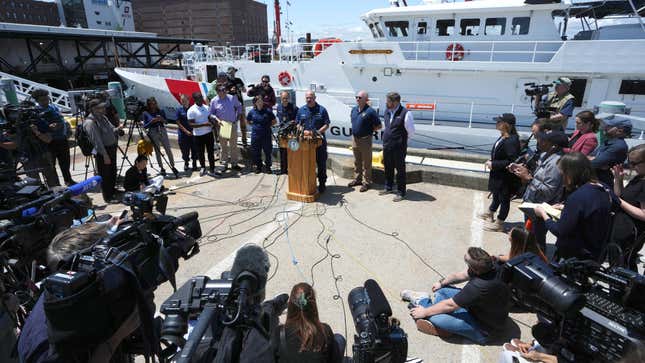 Media coverage has been intense regarding the missing Titanic Submersible, which is believed to be somewhere in the Atlantic Ocean. Numerous ships and vessels have been employed to locate the Submersible, which went missing Sunday on its way to view the wreck of the Titanic. OceanGate Expeditions was in charge of the mission.
Quantum Leap & Ghostbusters' Ernie Hudson Plays That's So Random
A Canadian surveillance vessel has revealed the presence of underwater noises in the area where rescuers are searching for the five people inside of the missing vessel. The tragic story has dominated international news cycles for days while Coast Guard officials work diligently to rescue those onboard.
"This is a search and rescue mission, 100%," Captain Jamie Frederick of the First Coast Guard District has stated. "We are smack dab in the middle of search and rescue and we'll continue to put every available asset that we have in an effort to find the Titan and the crew members."
However, it was reported that last week more than 500 refugees are believed to have drowned off the coast of Greece. According to the United Nations Migration Agency, around 400 and 750 people—including children—from Egypt, Syria and Palestine were on an overloaded fishing trawler when it sank.
It's one of the most devastating incidents to have ever happened in the Mediterranean Sea, EU Commissioner for Home Affair Ylva Johansson has said. It was reported that at least 298 people from Pakistan died, with 104 being rescued and 78 bodies being found.
However, it is not nearly receiving enough attention outside of the nations that were directly affected by the tragedy. Pakistan's prime minister Shehbaz Sharif declared Monday a day of mourning for those who died in the shipwreck. He also said he will investigate how the tragedy happened in the first place.
"I assure the nation that those found negligent towards their duty will be held to account. Responsibility will be fixed after the inquiry and heads will roll," Sharif said. In addition, the UN has called for an investigation into Greece's role in the incident and if they could have done to rescue those onboard.
The Titanic submersible isn't the only at-sea tragedy that the world should be talking about; hundreds of people died in the Greek migrant shipwreck. However, we know the role that race and class play when it comes to which communities are elevated and highlighted by the media—what happened to those refugees is a cruel and inhumane reminder of it.