President Barack Obama and first lady Michelle Obama will host a poetry evening at the White House Wednesday night, featuring Grammy-winning hip-hop artist Common (Lonnie Rashid Lynn Jr.). He's scheduled to join Jill Scott, Bill Collins and Rita Dove to celebrate American poetry and will take part in rap workshops with schoolchildren before performing in the evening.
Justice Smith Talks New Dungeons & Dragons Movie, The Get Down On That's So Random
The Atlantic reports that Fox News, the Daily Caller and other right-leaning outlets are up in arms over his place on the guest list.
Why? "Some of Common's poetry could … raise some eyebrows among those who might find cop-killing and racially tinged or misogynist language beneath the Office of the Presidency," Shawn Millerick at the New Hampshire Journal wrote. He goes on to quote from Common lyrics: "Tell the law my Uzi weighs a ton … I hold up a peace sign but I carry a gun," and "Flyer say Free Mumia on my freezer."
Gun reference? Yes. Grounds for being banned from the White House grounds? We're going to go with no. As the Atlantic reports, Obama is far from the first president to host an artist whose work includes references to controversial — or even criminal — topics.
G/O Media may get a commission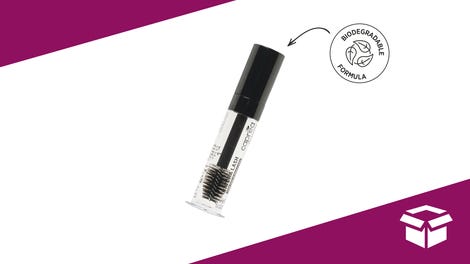 It's $8
20% Off Lash + Eyebrow Serum 2.0 - Caprea Beauty
Not to mention, anyone who is actually familiar with Common's career knows that he is renowned for writing socially and politically conscious lyrics and eschewing the gratuitous violence for which rap is often criticized. And the first word used to describe his work is always "positive."
There's actually something a bit humorous about the way Obama's foes have taking this opportunity to express outrage. (Doesn't a rapper at the White House seem like the worst nightmare, a Saturday Night Live-skit scenario imagined by someone uneasy with the idea of a black president? Especially just a week after the first lady publicly danced to a routine choreographed by Beyoncé.) But we would have been surprised if they didn't seize upon it. As the American Prospect's Adam Serwer explains, it makes perfect sense:
Rappers are often conflated with the content of their material in a way other artists aren't because the narratives almost always take place in first person as part of an emcees' effort to create a literary persona. That's part of why William Shakespeare has never been accused of endorsing rape or domestic violence. Mix that with a black president whose spent the last few years facing accusations of covert black militancy from Republicans, and you've got yourself a faux-scandal.
Hmm … what rhymes with "faux-scandal"? We hope Common is taking notes. This will make great fodder for the lyrics on his next album.
Read more at the Atlantic and the American Prospect.
In other news: Tea Party Rips Boehner and Ryan on Debt Ceiling.
Like The Root on Facebook. Follow us on Twitter.