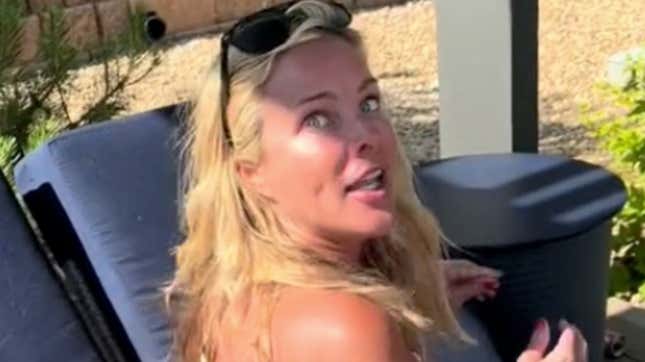 On July 4th weekend, a video went viral of a white woman in a Lakewood, Colorado apartment complex harassing a Latino family. After she was dragged on the internet, the culprit—who has been identified as Blair Featherman—spoke out in an interview Tuesday in an attempt to justify her raggedy behavior.
Small Town Horror Story: The Mississippi Burning of Three Anti-Segregationists
Featherman claims she was by sitting in the complex's pool area when she saw some folks that she didn't recognize. "We noticed a party gathering on the other side of the pool and it was getting bigger and bigger and bigger," Featherman said in an interview with Inside Edition.
She stated that she was concerned about her safety. "People try and wait for the gate to open and come in, and stay all day," she explained. Of course—in typical white woman fashion—she decided to take things into her own hands. Featherman and her boyfriend allegedly asked one of the partygoers to see their key fob.
"I think he said 'no,' and we were like, 'we'll just call security,'" Featherman stated. She left out the part where she screamed at the group: "Yes, it's true. You have a f**king Mexican party in a pool. Trash." In the footage, she also commented "get the f**k out" and "go back down to Denver."
Instead, Featherman tells a story of her being assaulted after walking back to her lounge chair on the other side of the pool. "They swarmed over like a swarm of bees, it was very fast," Featherman recalled. "I got pushed first by a man, and then the women jumped on me."
She said the viral clip was recorded after fake fingernails were left in her hair from the assault. "They ripped off in my head when they were attacking me. I'm running around looking for my phone. 9-1-1 is being called, I see this girl recording me, so I grabbed it. But then I gave it back 5 minutes later."
Of course, when her racist remarks from the video are addressed, Featherman skirted around taking full accountability. "Absolutely not," Featherman replied when asked if she's racist. Featherman continued: "I completely apologize for saying what I did about the pool party."
Even though the interview was supposed to drum up sympathy, Featherman's actions aren't justifiable by any means. Hopefully, this is the last time she speaks out the incident.