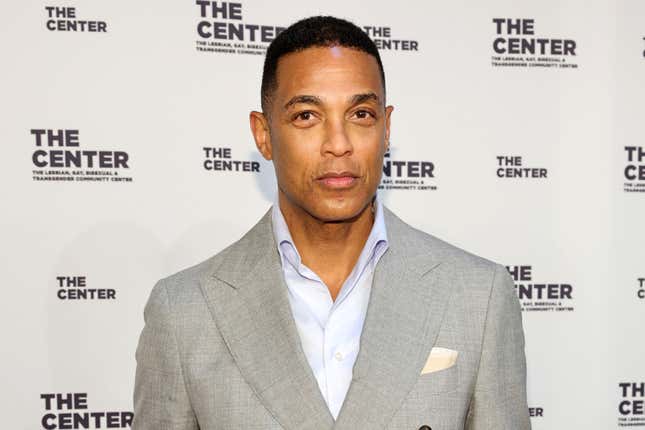 Longtime host Don Lemon is officially out at CNN News. The network announced that they were parting ways with Lemon, one of the recognizable faces on the network. The news comes in the wake of sexist comments made by Lemon and allegations of inappropriate behavior at work.
A Black Lady Sketch Show Is Our Black TV Pick of the Week
"I was informed this morning by my agent that I have been terminated by CNN," Lemon said in a Twitter statement. "I am stunned. After 17 years at CNN I would have thought that someone in management would have had the decency to tell me directly. At no time was I ever given any indication that I would not be able to continue to do the work I have loved at the network."
The network announced the news after the host's morning show aired earlier today. "Don will forever be a part of the CNN family, and we thank him for his contributions over the past 17 years," said CNN CEO Chris Licht in a statement. "We wish him well and will be cheering him on in his future endeavors."
Lemon's morning show, which he hosted with Poppy Harlow and Kaitlin Collins, will continue. "CNN This Morning' has been on the air for nearly six months, and we are committed to its success," CNN said in a statement.
The news didn't come out of nowhere. He originally landed himself in hot water when he made comments about Republican Presidential candidate Nikki Haley. He asserted that she wasn't in her prime. "A woman is considered to be in her prime in her 20s and 30s and maybe 40s," said Lemon. "I'm just saying what the facts are — Google it."
In the wake of that initial scandal, Lemon apologized and was sent to sensitivity training. But his standing only got worse from there. In early April, Variety published a scathing report about Lemon's behavior at the network. According to their reporting, Lemon allegedly mocked his female co-workers and had an open relationship with a 22-year-old junior employee.
The Root's Senior Writer Candace McDuffie wrote about these allegations back in early April:
One of the allegations included troubling behavior while Lemon was anchoring CNN's "Live From" in 2008. He reportedly became upset when his colleague Kyra Phillips was chosen for a reporting assignment over him. Sources told Variety that Phillips then received text messages from a sender believed to Lemon that said: "Now you've crossed the line, and you're going to pay for it." Lemon currently hosts CNN's morning show with Kaitlan Collins and Poppy Harlow.

The report also alleges Lemon had an open relationship with a 22-year-old junior employee when the host was 41 (Lemon is now 57 years of age). It also claims that Lemon called one of his producers fat to her face, made fun of co-host Nancy Grace on-air and made disparaging remarks about Soledad O'Brien after she received the job of hosting the network's Black in America docuseries which started in 2008.

In a staff meeting, Lemon suggested O'Brien wasn't actually Black. In response, O'Brien—who wasn't present at the meeting—told Variety: "Don has long had a habit of saying idiotic and inaccurate things, so it sounds pretty on-brand for him." However, a rep for Lemon told the Los Angeles Times that all of these claims are untrue.

"The story, which is riddled with patently false anecdotes and no concrete evidence, is entirely based on unsourced, unsubstantiated, 15-year-old anonymous gossip. It's amazing and disappointing that Variety would be so reckless," the rep said.
We're not sure exactly why Lemon is out, which may lead to speculation over whether releasing him was justified, but Lemon doesn't seem like he's going to go away quietly.