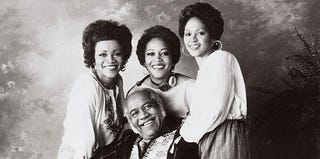 Cleotha Staples of the soul group the Staples Singers passed away on Thursday at her home in Chicago, reports Billboard. She was 78.
Staples, the eldest sister and member of the group her father Roebuck "Pops" Staples started in the 1940s, died Thursday at age 78. She was at her Chicago home and had been suffering from Alzheimer's disease for the past decade, said family friend and music publicist Bill Carpenter.

The group included sisters Pervis, Yvonne, Mavis and Cynthia, but Cleotha was the backbone, defining herself by being the "strong, silent type," said Carpenter, author of "Uncloudy Day: The Gospel Music Encyclopedia." …

"A lot of singers would try to sing like her," Mavis Staples said in a statement. "Her voice would just ring in your ear. It wasn't harsh or hitting you hard, it was soothing. She gave us that country sound."

Staples, known as "Cleedi," was inducted into the Rock and Roll Hall of Fame with her family in 1999 and received a lifetime achievement award from the Grammys in 2005. The Staple Singers gained a huge audience with their first No. 1 hit "I'll Take You There" in 1972 and followed with top 40 hits "Respect Yourself," "Heavy Makes You Happy," and "If You're Ready (Come Go With Me)."
Read more at Billboard.