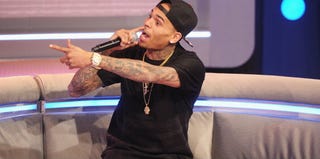 Sounds like Chris Brown needs a break. His rep says "intense fatigue and extreme emotional stress" caused the embattled 24-year-old singer's seizure August 9, according to Hello Beautiful.
"While in the studio working early this morning, Chris suffered a nonepileptic seizure (NES)," his rep confirmed to Us Weekly in a statement.

Although the singer was not hospitalized, the rep said, "His doctor tended to him this afternoon and attributes the NES to intense fatigue and extreme emotional stress, both due to the continued onslaught of unfounded legal matters and the nonstop negativity."

This sounds like it could be true because Brown did tweeted that he was ready to end his entertainer career and live a normal life earlier this week. 
Read more at Hello Beautiful.