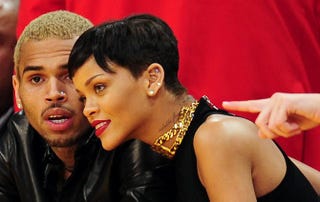 R&B singer Chris Brown celebrated Friday after a Los Angeles Superior Court judge released him from probation for a 2009 assault on his then-girlfriend, Rihanna, reports the Los Angeles Times.
"IM (sic) OFF PROBATION!!!!!!!!" he tweeted to his 14 million followers. "Thank the Lord!!!!!!"
Brown's probation was revoked in January after he reportedly violated orders by leaving Los Angeles County without giving notice and was present during a shooting at a nightclub in San Jose, the Times writes. But Judge James R. Brandlin determined that Brown had not violated probation after reviewing the singer's report, said Jane Robison, spokeswoman for the Los Angeles County District Attorney's Office. As part of probation, Brown completed roughly 1,000 hours of community service and attended domestic violence classes.
Brown lost his tailored good-boy image after the assault drew worldwide attention when images of Rihanna's badly bruised and battered face leaked from Los Angeles Police Department.
Read more at the Los Angeles Times.