The Chicago Blackhawks have barred four fans from their home games after the Washington Capitals' Devante Smith-Pelly was subjected to racist chants while playing in Chicago over the weekend.
Smith-Pelly is, unfortunately, no stranger to racism on the ice and immediately knew what was going on when a few fans started chanting, "Basketball, basketball, basketball" as he sat in the penalty box during his team's 7-1 loss in the Windy City on Saturday night.
"It's pretty obvious what that means. It's not really a secret," Smith-Pelly told the Associated Press. "Whether it's that word or any other word, I got the idea. And I'm sure they got the idea, too. Just one word, and that's really all it takes."
The 25-year-old was more tired of how nothing has changed to this day when it comes to race and racism.
"It's disgusting," he added. "You'd think there would be some sort of change or progression, but we're still working toward it, I guess, and we're going to keep working toward it."
G/O Media may get a commission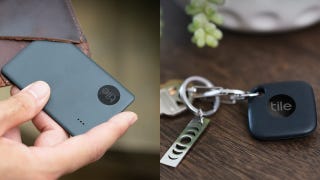 Up to 35% off
Tile Item Trackers
Still, the Blackhawks are standing up for the opposing team's forward, having announced on Friday that four fans would no longer be welcome.
"Racist comments and other inappropriate behavior are not tolerated by the Chicago Blackhawks," team spokesman Adam Rogowin wrote in an email.
AP reports that Blackhawks and United Center officials immediately saw the racist chanters ejected from the site after an off-ice official notified building security of what was happening.
The Blackhawks also apologized to Smith-Pelly and the Capitals after the game, noting that the team and organization "are committed to providing an inclusive environment."
NHL Commissioner Garry Bettman also released his own statement, noting that the league found the fans' behavior "unacceptable and reprehensible."
"While this was isolated in nature, no player, coach, official or fan should ever have to endure such abuse at one of our games," Bettman said.
The Capitals, in the meantime, released their own statement, saying that they are "extremely disappointed by the intolerant behavior" of the group of fans, but thanked the Blackhawks and the venue's security for dealing with the issue.
"For the 22,000 people in Chicago at the game last night, there were a lot, a lot, a lot of good people," Capitals coach Barry Trotz said during his postgame comments, again insisting that there is no place for racism anywhere. "And a few individuals keep bringing the ugly part of society out, and that was unfortunate."
As AP notes, the hateful taunts ironically occurred during NHL's "Hockey Is for Everyone" campaign, meant to promote inclusiveness in the sport, which is dominated by white athletes.