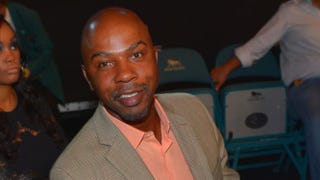 Greg Anthony's days as a CBS sports commentator have been on hold since he was suspended indefinitely after news broke that the former NBA player had been arrested for soliciting a prostitute. Now new details have surfaced that Anthony agreed to pay a "D.C. police officer who was working undercover as a prostitute $80," according to arrest records viewed by the Washington Post.
According to the Post, the sting was set up through the website Backpage.com, where Anthony reportedly responded to an escort ad. When an officer with the Human Trafficking Unit, playing the role of escort, arrived at Anthony's Doubletree Hotel, she told Anthony that it was $80 for sex.
Anthony replied, "Oh, I don't wanna say all that," to which the undercover officer responded, "I just need to know so I don't have any surprises," according to arrest records viewed by the Post.
There was a discussion about the type of sex, and Anthony reportedly wanted the "escort" to dress up, but before things got out of hand, the signal was given to make the arrest.
"Anthony was arrested and charged with misdemeanor solicitation for prostitution. Anthony is scheduled to appear in court Feb. 2," the Post reports.
Anthony is a married father of four and currently lives in Del Ray Beach, Fla.
Read more at the the Washington Post.