Carolina Panthers running back Mike Tolbert might be the most passively aggressive petty person ever if you believe the owner of Motion Lab Tuning, an automotive company in Charlotte, N.C.
According to automotive site Jalopnik, Tolbert took a vintage ride to Motion Lab to get a new engine. The owner says that because of Tolbert's local celebrity, he wanted the work done for free. The owner says that he refused and that they agreed on the price. However, the owner says that when Tolbert returned to pick up his car, he paid for his $3,900 bill in coins!
Richard Pettybone, indeed.
Tolbert says he took his car to Motion Lab Tuning and was given a time frame and price but says that the company not only took longer than originally promised but also raised the final total price once the work was finally finished. Tolbert went to Instagram to blast the company:
In a response to Tolbert's IG post, Motion Lab Tuning posted this message about the incident on Facebook:

Today was a huge waste of time and a major disappointment. Many of you may know who Mike Tolbert is. He plays for the Carolina Panthers. He had an old car at the shop for a motor swap. You might think because he is a professional athlete he would be a fair and ethical person.

From the beginning, he attempted to get us to do work for free because he is 'Mike Tolbert'. So today, I am disappointed that it came to this, I had to call the police on Mike Tolbert. He and his buddy threatened me. CMPD actually banned him from the property today. They forced him to pay his bill before leaving though. In a passive aggressive manner, he thought he would get the last laugh by paying in coins. Pretty dumb really. All $3,900 in coins were easily identifiable as they came from a bank in boxes and perfectly counted out. I will say this, those coins will be taken in the boxes they came in and will be taken to a teller at BOA for deposit.

Now he is slandering me, saying things that weren't true. Name calling, etc. Jesus man just pay your bills and be a good person. I also have to break it to my son who is a fan of Mike Tolbert that he is a real scumbag that doesn't want to pay his bills.There's a special place for guys like Mike Tolbert. People like him that try to cheat a small business. Shame on him for this type of behavior.
G/O Media may get a commission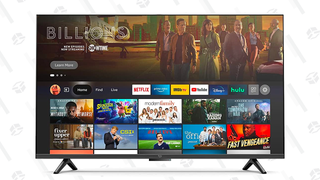 22% off
Amazon Fire TV - 50" Omni Series 4K - Early Access Deal
No idea if any of this has been resolved, but paying for anything with boxes of coins is mad petty.
Read more at Jalopnik.