We may well be living in the "Cult of Cardi B." Is there any other way to explain the meteoric rise of Belcalis Almanzar? With her self-professed "broken English," shameless hustle and streetwise wit, she has continued to work her way into our hearts—while skyrocketing to the top of the charts.
The reality-turned-rap star already has a reputation for impulsiveness and irreverence, so her recent interview with GQ magazine (accompanied by gorgeous photos by Christian Weber) was a refreshing peek behind the curtain, revealing yet another layer to the phenom known as Cardi B.
Over a barbecue dinner, the artist, who at the time was still working on her now certified-gold debut album, Invasion of Privacy, and keeping her pregnancy under wraps, gives us an intimate glimpse into the making of a megastar. She admits to a significant (and very relatable) amount of self-doubt, clarifies her history with street gangs, reveals how she came by those illegal-looking curves, and demonstrates an admirable command of American history and politics. And even though already feeling the pressure of her increasingly demanding career, she even manages to go undercover for GQ to answer online commenters. A few gems:
On her uncanny knowledge of civics:
"I love political science. ... I love government. I'm obsessed with presidents. I'm obsessed to know how the system works."
On getting (illegal) butt injections:
"They don't numb your ass with anything. It was the craziest pain ever. I felt like I was gonna pass out. I felt a little dizzy. And it leaks for, like, five days."

G/O Media may get a commission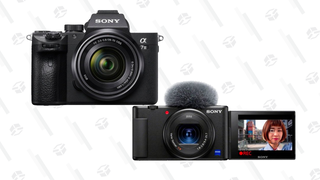 Cyber Monday Deals
Sony Camera Sale
On self-doubt:
"It's really hard for me to make decisions. ... I always got to call somebody like, 'How does this sound? Does this sound ridiculous?'"
On her Nuyo-minican accent:
"Do you want to know something? That's my biggest problem, that takes me a long time in the booth. I be trying to pronounce words properly and without an accent. Each and every song from my album, I most likely did it over five times, because I'm really insecure about my accent when it comes to music. In person, I don't care."
On grappling with newfound fame:
"I'm the artist, but I don't feel like I have a higher position than anybody that's working for me. If I don't want to work tomorrow, I cannot just stop working, because then, how's other people gonna feed their family? It is a lot of pressure."
On being affiliated with the Bloods:
"One thing I could say, you could ask any gang member: Being in a gang don't make you not one dollar. And I know for a fact every gang member, he asking himself, 'Why did I turn this?' Sometimes it's almost like a fraternity, a sorority. Sometimes it's like that. And sometimes I see people that's in the same gang kill each other. So sometimes there is no loyalty. Sometimes you gotta do certain things to get higher, to get higher and higher. You're doing all of that and you not making money off of it. That's why I don't talk about it much. Because I wouldn't want a young person, a young girl, to think it's okay to join it. ... It's not about violence. It's just like—it doesn't make your money. It doesn't make your money. I rep it, because I been repping it for such a long time."

On meeting Beyoncé:
"When I met Beyoncé, people be like, 'How that felt? I bet you was mad happy.' ... It's like, 'Actually, I wanted to shit on myself.'"
Of course, in the months since this February interview took place, not only has Invasion of Privacy debuted at the No. 1 spot, taking gold status on the day of its release, but Cardi B has revealed another upcoming release: the birth of her first child with fiance and fellow rapper Offset. Visiting Hot 97's The Breakfast Club on Monday morning, she spoke about the double standards that are still applied to women who choose to have family and careers, and why we shouldn't worry about her or her Bodak Baby:
But perhaps the realest talk from the occasionally caricaturelike Cardi B came in response to an online commenter who wrote that she "doesn't act human. She's like some alien from the future here to show us how it's gon be."
Her response?
"I'm actually very human, like ... a lot of people think that these celebrities, like, don't have feelings and everything. I'm a very emotional person. I pretty much want the same shit you want, motherfucker."