Nina Simone was one of a kind.
Her voice, a striking, resonant contralto, could convey a clarion call to action or a deep reservoir of emotion. Her music is cherished by nearly everyone who knows it, but her legacy, well, that's a little more complicated.
Simone, who died in 2003, lived a tumultuous life. She was trained as a classical pianist but took up nightclub singing after being denied admission at a top conservatory because of her race. She used the opportunity to create a unique amalgam of blues, gospel, folk, jazz and classical idioms. Her interpretations of classics from George Gershwin's "I Loves You Porgy" to Bob Dylan's "Just Like Tom Thumb's Blues" were so distinctive, it became nearly impossible to hear the earlier versions with the same admiration. Her own signature songs, including "To Be Young, Gifted and Black" (1969) and "Mississippi Goddam" (1964), are as urgent and timely today as when they were written.
Simone's personal life was often turbulent. She was abused by her husband and longtime manager, Andy Stroud, and she was abusive toward her daughter, Lisa Simone Kelly. Simone's outspoken nature and volatile reputation turned the economics of her music career into a roller-coaster ride. She suffered from manic depression, which went untreated for years.
Her life has been the subject of several biographical projects, and a new wave of them is starting in three … two … one. Netflix is about to release the documentary What Happened, Miss Simone? on June 26. The film is directed by Liz Garbus, a veteran filmmaker whose works Killing in the Name and The Farm: Angola, USA were nominated for Oscars.
On a balmy second day of summer, she sat barefoot in the office of her publicist and talked about the film.
G/O Media may get a commission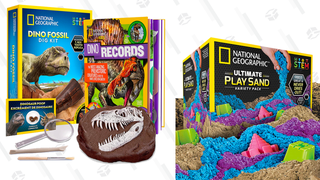 Up to 33% off
National Geographic Science and Activity Kits
"It's really the culmination of everything I've done so far," said Garbus. "Nina's life is so rich and encompasses so many important aspects of America."
Garbus was approached in 2013 by Radical Media, a production company that partnered with the Simone estate and Kelly about doing the movie, and she leaped at the opportunity. She had been a big fan of Simone's music—1967's High Priestess of Soul is her desert-island Nina disc, though she'd rather take a boxed set—and in particular she was attracted to Simone's forcefulness.
"She was a woman who was a barrier breaker; that's very brave. She didn't care if things weren't pretty," Garbus said.
Upon taking on the project, Garbus assembled a team of researchers who spent nearly a year working like detectives chasing down leads on archival footage, tapes and diaries. The film's impact is the result of their work. There are excerpts from Simone's diaries; an interview with Stroud, who died in 2012; and a lengthy, revealing interview with Kelly that provides a bit of a spine to the story. There are also tons of revealing concert footage, including a clip in which Simone stops midshow and tells an audience member to sit down.
The making of the movie took Garbus on a journey. "I went from romance to darkness, back to some sort of romance," she said of her relationship to her subject. "To appreciate Nina's beauty," said Garbus, "you have to understand the struggles that are behind it."
When I told Garbus that interviewing Simone was my first major daily-newspaper assignment in 1985, she laughed and asked, "Did she yell at you?" In fact, she did, and when she found out I was 25, she lectured me about my generation's political complacency. I had spent the previous evening at an anti-apartheid event, and I was active in the "no nukes" movement, so I pushed back a little, but I quickly figured out that Simone was not the sort who agrees to disagree, so I steered the conversation back to music.
Simone is the subject of another documentary, The Amazing Nina Simone, which will be released later this year, and the infamous biopic Nina, starring Zoe Saldana—a controversial casting choice that caused a backlash—will also be released in the fall. On July 10 a compilation recording, Nina Revisited: A Tribute to Nina Simone, featuring several covers by Lauryn Hill (who gave Simone a shout-out in the Fugees' "Ready or Not" almost 20 years ago), will be released. The recording also features performances by Mary J. Blige, Alice Smith, Gregory Porter and several other top singers.
This raging revival takes me back to 1992, when I attended a Simone show at Carnegie Hall. When she came onstage, she received a five-minute standing ovation, which she deemed insufficient, so the audience, after a little uncertainty and prodding, supplemented it with a few more minutes of applause. Then Simone sat down at the piano and began to play. It was a stellar performance and she did encore after encore, and before each one she had to signal to the audience to stop applauding so that she could play more music. It was Nina Simone in a nutshell: She was demanding, but she delivered.
Martin Johnson writes about music for the Wall Street Journal, basketball for Slate and beer for Eater, and he blogs at both the Joy of Cheese and Rotations. Follow him on Twitter.