If you have stellar vocal ability, experience with period pieces, a passion for community theater, are willing to work for free—oh, and you are a black man—a Southern California playhouse may have a spot for you, the Los Angeles Times reports.
The Costa Mesa Playhouse in Orange County, Calif., has hit a roadblock in its plans to stage the musical Ragtime Aug. 8. It's struggling to fill three of its six black male lead roles for its Harlem Ensemble, according to the Times.
The playhouse is combing its social networks like Facebook to try to recruit the unfilled trio.
Ragtime's script and the Harlem Ensemble, made up of 12 black men and women, means the playhouse can't cut corners and cast players of other races or ethnicities.
"We wouldn't try to pretend a white man or Hispanic man is black you know," said Michael Dale Brown, the playhouse's board president, the news site reports.
G/O Media may get a commission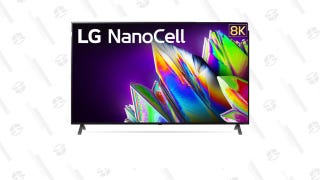 LG 75-Inch 8K TV
It's a frequent problem the playhouse has had to contend with. Other shows with black lead roles, including those by playwright August Wilson, couldn't be produced because of a shortage of capable black actors.
Orange County's minuscule black population of 2.1 percent, according to the census, might have something to do with it. Or the Costa Mesa Playhouse's troubles may be because it lies outside Los Angeles' city radius, notes the Times.
It probably doesn't help that the playhouse is only able to provide a stipend for its actors in rare instances, which further shrinks its base of black actors to those whose passion for acting—and the commitment required—overrides getting paid. Plus, add in an expectation of top-notch qualities, such as a seasoned singing voice—and, well, you might as well forget it.
Other theater companies, like 3-D Theatricals in Anaheim, Calif., much closer to Los Angeles, have had less of a problem recruiting black performers to their auditions, according to the news site.
Costa Mesa Playhouse remains optimistic that it will be able to cast the black male roles in time for Ragtime's three-night run, reports the Times.
Read more at the Los Angeles Times.