Jay Darshane, the district manager for a Chicago Burger King, confirmed to NBC Chicago that on Oct. 20, 2014, shortly after Laquan McDonald was shot 16 times by a Chicago police officer, four cops entered the store and asked to see security footage. Darshane says he gave the officers the passcode to the footage and left them alone. The next day, when a member of the Independent Police Review Authority asked to view the security footage, Darshane says, he realized that 86 minutes of the recording had been deleted.
According to NBC Chicago, footage recorded from 9:13 p.m. to 10:39 p.m. was wiped clean from the tape. Lawyers for the 17-year-old Laquan's family told the news station that the teen was shot at approximately 9:50 p.m.
"We have no credible evidence at this time that would cause us to believe CPD purged or erased any surveillance video," a spokesperson for IPRA told the news station.
But Darshane disputes that claim, noting that the cameras were up and running all night, and he says he believes that an officer must have deleted the missing footage. "We had no idea they were going to sit there and delete files," Darshane told NBC Chicago. "I mean, we were just trying to help the police officers."
According to the news station, all sides note that the footage from the security cameras may not have shown the entire shooting, but the McDonald family's lawyers argue that the footage could have shown events that led up to the shooting.
G/O Media may get a commission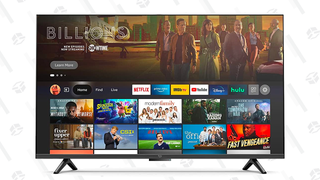 22% off
Amazon Fire TV - 50" Omni Series 4K - Early Access Deal
"Our first time down at the Burger King restaurant when we started talking to employees, watching the Burger King video, when we realized video had been deleted, or is missing, absolutely we knew something was up," said Jeff Neslund, an attorney for the McDonald family.
On the night of the shooting, police received a call about a man with a knife and arrived to find Laquan holding a 3-inch blade. They followed the 17-year-old through the Burger King parking lot and confronted him on a nearby street. Laquan was shot 16 times, and according to witnesses, he was shot several times after he lay motionless on the ground.
"One witness, this witness told us this was an execution. That's his word," Neslund told NBC Chicago.
Police have charged Officer Jason Van Dyke, 37, with first-degree murder in Laquan's death, and he is being held without bond. On Tuesday police released dash-cam footage of the shooting, which shows Laquan being shot shortly after the arrival of police.
Protesters marched along Chicago streets Tuesday evening, blocking traffic and chanting, "Sixteen shots!"
Arrests were made, but police did not say how many.
"People have a right to be angry, people have a right to protest, people have a right to free speech, but they do not have a right to commit criminal acts," Police Chief Garry McCarthy told NBC News.
"Every day in this city, you see thousands of officers performing admirably," he said. "The officer in this case took a young man's life, and he's going to have to account for his actions."
Read more at NBC Chicago and NBC News.