CNN is reporting that residents of Mississippi and Louisiana are bracing themselves for flooding as the bulging Mississippi River barrels down South. A vast number of farms remained under threat as it left a trail of submerged homes. The river crested at Memphis, Tenn., a day earlier just a few inches short of a record set in 1937. As it slowly headed south, flooding concerns turned to Louisiana and Mississippi, where it is expected to rise to levels unseen since 1927.
Louisiana Gov. Bobby Jindal said as many as 3 million acres could be affected by the flooding. Some 500 National Guard members have been mobilized so far, and 21 parishes have issued emergency declarations, according to the governor.
In neighboring Mississippi, some of the waters seeped into casinos as the river inched toward a 48-foot crest Tuesday evening. About 600 people in the Tunica community of Cutoff have been driven from their homes, said Larry Liddell, a county spokesman. "We're just watching and waiting," he said.
Louisiana and parts of Mississippi are still recovering from the devastation of Hurricane Katrina, so this flooding would be a major setback for the states. There is concern that the levees in Mississippi may not hold. We hope that's not true. Instead of worrying about Birther bills and other foolishness, the governments of both states, along with the U.S. Army Corps of Engineers, need to focus on securing the levees.
Read more at CNN.
In other news: Security Heightened for Obama's Grandmother After bin Laden Death.
G/O Media may get a commission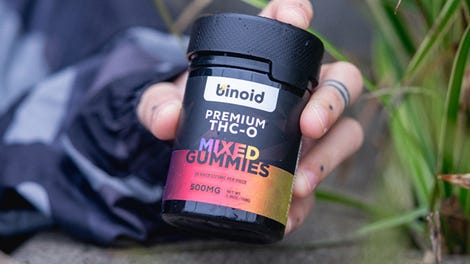 25% Off + Free Shipping
Binoid THC-O Gummies
Like The Root on Facebook. Follow us on Twitter.