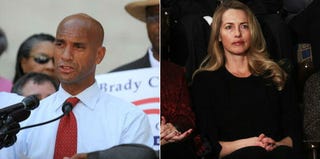 The Washington Post is reporting that former Washington, D.C., Mayor Adrian Fenty and Laurene Powell Jobs are dating after meeting two years ago at a Houston education conference. The two reportedly connected over a shared interest in school reform, the report says.
Last year, the former D.C. mayor scored a plum job with Andreessen Horowitz, one of Silicon Valley's hottest venture capital firms. Now we've learned that Fenty is dating Laurene Powell Jobs, the billionaire widow of Apple co-founder Steve Jobs.

The two met at a Houston education conference in 2011 and bonded over a shared passion for school reform. In February 2012, Fenty joined the board of College Track, a non-profit college prep program for underserved students co-founded by Powell Jobs.

"Adrian Fenty is one of our country's great advocates for education reform," she said in a statement when he joined the board. "His sense of urgency and record of accomplishment is unparalleled."
Read more at the Washington Post.