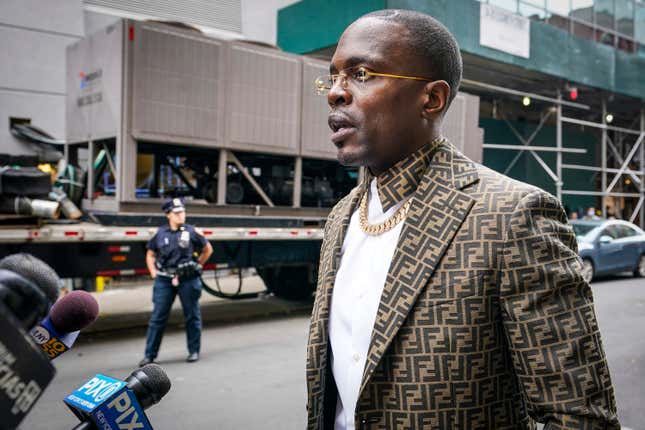 The plot thickens with the elusive Bishop Lamor Whitehead who apparently just can't stay out of the headlines. His latest alleged grift includes faking bank documents to finance his New Jersey mansion. Several outlets, including Entrepreneur and the New York Post, have reported details of the supposed shady dealings.
My Hip-Hop Story: Cedric The Entertainer On Jay-Z and His Indisputable Role In Shaping The Genre's Culture
Whitehead first gained international attention when he was robbed while livestreaming a sermon back in July 2022. Now, he is facing new federal fraud charges. According to reports, Whitehead applied for a quarter-million dollar business loan in 2018. He didn't receive the loan but prosecutors believe that Whitehead faked important documents to support the loan application.
The latest indictment against Whitehead says the documents that he presented were for "a bank account that did not in fact exist." The paperwork made it appear that his company, Anointing Management Services LLC, had over $2 million in assets, despite "during that time period [the business] had an average ending balance of less than ten dollars."
Even though Whitehead didn't get the 2018 loan, he is accused of trying once more in 2019. And yet again, he used forged documents as part of the application for a $1.3 million mortgage on his home in Paramus, New Jersey.
On Wednesday, Whitehead's attorney Dawn Florio remarked: "We are going to be fighting those allegations. Lamor Whitehead will be pleading not guilty when he is arraigned on the … indictment and denies those charges." In December of last year, Whitehead was arrested by federal agents for allegedly embezzling $90,000 from one of his congregation members' retirement fund.
In a different alleged crime, he extorted a man for $5,000 and asked the him to lend him $500,000. Whitehead then promised the man he could "obtain favorable actions by the New York City government" in exchange for the cash and interest in real estate transactions. Whitehead is currently free on a $500,000 bond.