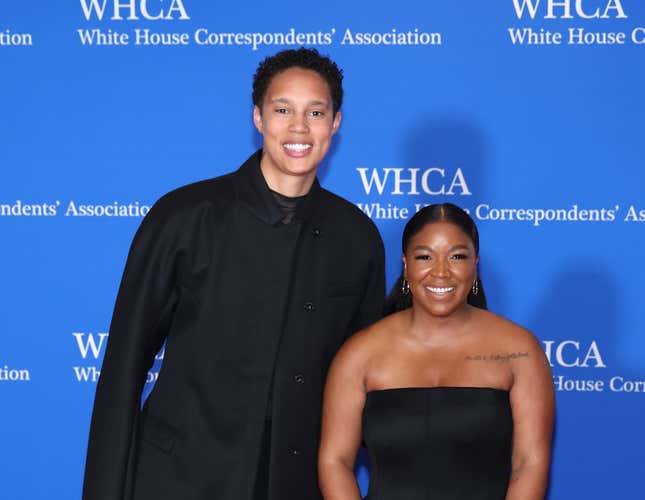 WNBA star Brittney Griner is truly enjoying her freedom. On Saturday, she went to the White House Correspondents' Dinner, is reportedly attending the 2023 Met Gala on Monday and most importantly had her first practice back with the Phoenix Mercury on Sunday.

Stephen A. Smith's NFL Playoffs Predictions
Per ESPN, after the milestone moment in her return to the court, the eight-time all-star told reporters how she thought she wouldn't be able to practice with her team again until the end of her nine-year Russian prison sentence, which she estimated would be October 25, 2030.
"If it was the full nine, I think that would've been my release date," Griner said. "Would've been a lot different. I don't know if I would've been on the court at that point. But, yeah, I just kind of prepared myself for the long haul, honestly. You never know. But, when it came quickly, I was really happy and I knew I couldn't wait to get back on the court."
The two-time Olympic gold medalist has been very open about the mental and physical challenges she faces as she gets her game back to elite levels. Though she felt "so good" after the two-hour workout, she knows it's still a long road.
"It's everything that I wanted it to be, just finding my groove, just getting back into it," she said.
The center last played for the Mercury in the 2021 WNBA Finals against the Chicago Sky. Brittney admitted that as much as she wants to immediately return to where she was before her 10-month long wrongful detainment in Russia, she knows that she has to be patient. Of course, that's not something most pro athletes are known for.
"Am I where I want to be? No, because last time I was with my team I was against Chicago in the Finals, and as much as I want to be 'Finals BG' right now, it's not the case," she said. "So, just kind of giving myself some grace and my teammates just picking me up. But I feel like I'm at a good spot to start a training camp though for sure."
Though she's still finding her footing, the Baylor alum maintains her signature sense of humor.
"I mean I didn't fall out, they didn't have to get a stretcher or oxygen or anything, so I guess I'm doing pretty good," Griner joked.
If you ask any WNBA fan, we're not expecting the basketball star to pick up where she left off. We're just excited to see her back on the court with her team. Brittney Griner officially returns to the WNBA when the 2023 season kicks off on Friday, May 19. The Mercury starts its season on the road against the Los Angeles Sparks in a game that airs at 11 p.m. ET/8 p.m. PT on ESPN.