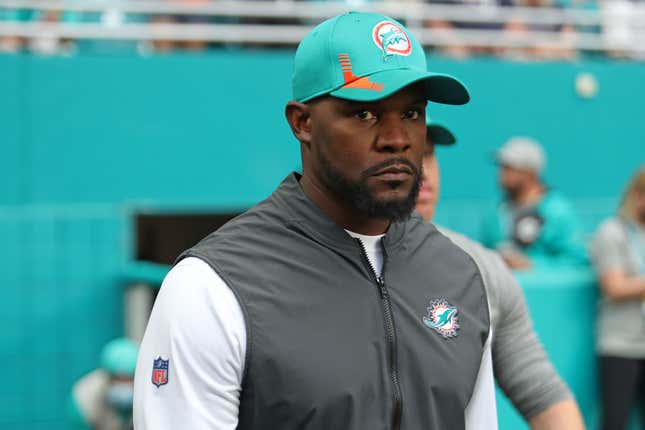 The NFL has had its fair share of allegations of racial discrimination. And now, after months of limbo, one of those claims will be aired in court. On Tuesday, Judge Valerie Caproni stood by her March decision allowing NFL Coach Brian Flores' discrimination claims to go to trial.

Michael Oher On New Book, NFL, The Jets, Aaron Rodgers, Running Backs Contracts & He Sings!
Here's a bit of background. Last February, Flores, who was fired from the Miami Dolphins, sued the NFL and three teams, including the Denver Broncos, the New York Giants, and the Houston Texans, over allegations of racist hiring practices. The lawsuit alleged that Flores was a victim of racial discrimination in several separate instances and that he was stigmatized as a "angry Black man."
It also unearthed some pretty damning facts. As of the lawsuit, roughly 70 percent of players were Black. However, only one of the 32 NFL teams employed a Black head coach. The lawsuit compared this to the NBA where roughly 43 percent of head coaches were Black. Two other former Black coaches were later added to the suit, making it a class action.
In her March ruling, the judge said she found these allegations "incredibly troubling," adding, "given the number of Black men who play and coach football, it is difficult to understand how it could be that, at the time Plaintiffs initiated this lawsuit, the NFL had only one Black Head Coach."

However, her Tuesday ruling isn't all good news for Flores. She stood by her decision that the two other coaches who joined Flores' anti-discrimination suit will have to go through arbitration, overseen by NFL Commissioner Roger Goodell.
Flores' attorneys argued that it was a potential conflict to have Goodell serve as arbitrator over accusations that the league he runs is racist. However, that didn't persuade the judge, who more or less said we'll cross that bridge when we get there.
Her decision to allow Flores' case to go to trial means we could find out more about the NFL's hiring practices and potentially shed light on what really goes down after the stadium lights turn off.