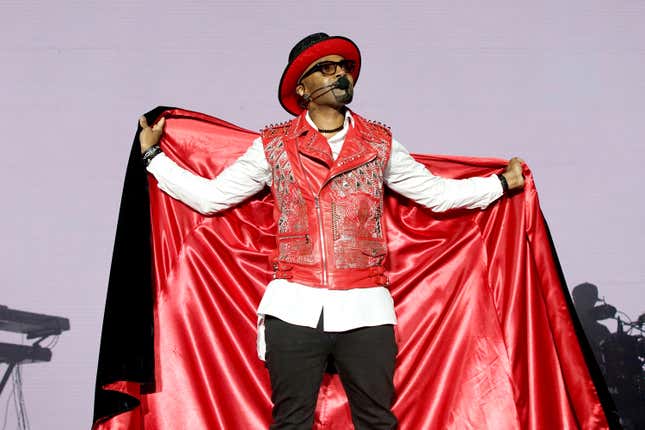 Now, you know if Donald Trump has a star on the Hollywood Walk of Fame (which fabulously continues to be vandalized), that music producer, New Jack Swing-originator, and thin-mustachioed crooner Teddy Riley been should have had one.
Comedian London Hughes Talks New Book, Parents Watching Her Very Sexual Comedy, & Beyoncé
Riley, who has had a significant impact on all music genres for more than a few decades, seems to be finally getting his just due—and, as they say, better late than never—especially while you're still alive.
As reported by The Root last year, Riley is one of the "unsung architects of modern black music."
For those of us who came of age in the late 1980s and 1990s, Riley was there grooving us every step of the way. "The Show" by Doug E. Fresh, one of the very first (rap) records I ever purchased? Teddy. "Make It Last Forever" by Keith Sweat, the theme for my prom? Teddy. All of Guy's first album, with "Groove Me," "I Like," and "Teddy's Jam," to get through high school? Teddy. Bobby Brown's "My Prerogative"? Teddy. I mean the man did "The Kissing Game," "No Diggity," and "Goodbye Love." And let's not even start with Michael Jackson—"Remember The Time," "In The Closet" and "Jam," from my college party days—they were all courtesy of TR.

Teddy Riley remains a wizard of beats, words and life, backgrounding our yesterdays with upbeat, authentic soul music and hip-hop sans the virulent misogyny that came to define the genre. Teddy Riley synthesized the sounds of affection, blackness and party times into something that was more than a music but a movement: New Jack Swing.

New Jack Swing, defined by Riley himself as a sound where "you're gonna hear singing with rap, or you're gonna hear shuffles in the beats, or a ballad with a kick or a finger snap," dominated music in the late '80s through the aughts, giving rise to a stream of other producer/arrangers who remixed, blended hip-hop and R&B, and sang on rap records.

Yet, when the names of top producers come up, he is rarely mentioned.
Watch longtime music executive and fellow Uptown native Andre Harrell give Riley his flowers on Friday, calling him "truly a magical genius" in his introduction.

Riley gave a humble speech where he thanked everyone from industry pioneers Clarence Avant and Mike Concepcion to his driver and godchildren.
New Jack Swing on Hollywood's Walk of Fame. Yup, yup.