You can call Teddy Riley many things: master of the '90s R&B jam, baby-making songwriter; The Original Rump Shaker (yes, it needs the capital letters); remixer extraordinaire (I mean, the man turned the Rugrats theme into a bop, for goodness sakes.)
But, at 52, Edward Theodore Riley is also one of the unsung architects of modern black music. He's one of only two producers to work closely with Michael Jackson as a solo artist (the other, of course, was Quincy Jones). And, as founder of the groups Guy, Blackstreet and Wreckx-N-Effect, and a behind-the-scenes hitmaker, Riley stands as an important force behind some of the most beloved hits of the last three decades.
For those of us who came of age in the late 1980s and 1990s, Riley was there grooving us every step of the way. "The Show" by Doug E. Fresh, one of the very first (rap) records I ever purchased? Teddy. "Make It Last Forever" by Keith Sweat, the theme for my prom? Teddy. All of Guy's first album, with "Groove Me," "I Like," and "Teddy's Jam," to get through high school? Teddy. Bobby Brown's "My Prerogative"? Teddy. I mean the man did "The Kissing Game," "No Diggity," and "Goodbye Love." And let's not even start with Michael Jackson—"Remember The Time," "In The Closet" and "Jam," from my college party days—they were all courtesy of TR.
Teddy Riley remains a wizard of beats, words and life, backgrounding our yesterdays with upbeat, authentic soul music and hip-hop sans the virulent misogyny that came to define the genre. Teddy Riley synthesized the sounds of affection, blackness and party times into something that was more than a music but a movement: New Jack Swing.
New Jack Swing, defined by Riley himself as a sound where "you're gonna hear singing with rap, or you're gonna hear shuffles in the beats, or a ballad with a kick or a finger snap," dominated music in the late '80s through the aughts, giving rise to a stream of other producer/arrangers who remixed, blended hip-hop and R&B, and sang on rap records.
Yet, when the names of top producers come up, he is rarely mentioned. With just one Grammy for engineering on Dangerous, I wondered if Riley felt like all of his work—like that of many black musicians who do music for black people—went unrecognized. The Root caught up with him in a recent interview before he's set to hit the Apollo stage for the "Kings and Queens of New Jack Swing," on Sunday, Dec. 9.
G/O Media may get a commission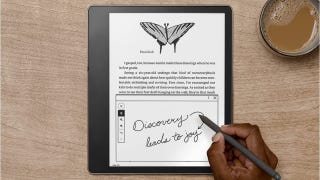 Releases November 30
Borrowing the display from the much-beloved Paperwhite, this screen provides a glare-free experience both indoors and outdoors so you can read by the pool or on the beach on a sunny day. New to this model is the inclusion of a pen. Take notes directly on the pages as you might in a traditional book, but the notes are automatically organized by title in a single place–letting you review and export them with ease.
"I've felt like I've been given what's been dealt to me. And it's all good," he told The Root. "It's really up to us to make ourselves known. I think it really depends on your circle. And now that I've got a great circle—it took me a while to get to this point—to have a great circle of women that are amazing, I'm finally getting my just due."
In the next year, Riley will be getting a star on the Hollywood Walk of Fame, playing on the Essence Festival main stage and will be honored by the city of New York for his 30-year contribution to music. In 2016, he was honored with the Soul Train Legend Award.
He's philosophical about the recognition.

"This is the time. I can only work off of God's time and that's what I live by. If it's not my time to get it, it's not my time to get it. And I can't hate about it. All I can do is be grateful."
A Harlem native, Riley will return home on Sunday for two shows at the Apollo Theater. He'll share a bill with hip-hop and R&B legends Keith Sweat, Blackstreet, Doug E. Fresh, Kool Moe Dee, MC Lyte, Al B. Sure and DJ D-Nice. Tidal will live stream the entire show at 6 p.m. ET/3 p.m. PT. Riley, who literally grew up within shouting distance to the venerable venue in the St. Nicholas projects, is bringing his considerable talents back to the place it all began.
"I just really feel like it's gonna be emotional in the building. I mean you're talking about 25 years plus we haven't been at the Apollo," said Riley. He promised to bring the venerable Harlem house down.
"He was that inspiration," says Naheem "Pop" Bowens, 49, a producer who also grew up in Harlem. "Everybody in the '80s was selling dope, but Teddy showed us you could have gold chains, cars, and get it legally.
"He gave us our vision," Bowens added. "He played keyboard, he produced. He laid the foundation for Puff, Jermaine Dupri, Pharrell."
"Of course, Harlem had an influence," says Riley. "I think everything about it, hanging out with my friends, and playing hide and go seek. I used to walk around with my Casio and my little beat box and show people that I know how to play. And they kept saying, 'Shorty, keep doing it. Don't stop. And stay off the streets.' And at some point, I didn't listen and went on the streets, but if I didn't have those lessons, I don't think I'd be where I am today."
Being a super Michael Jackson fan from way back, I had to ask Riley some really important questions, such as, "Is it true that Michael Jackson had a naturally deep voice?" which took us into one of the best MJ stories I'd ever heard.
"Yes, he [did]," says Riley, who said that Jackson used to use his "real" voice when he was in disguise. Except once when Jackson came to pay Riley a visit, and the good folks of Virginia Beach weren't fooled for a minute.
"One time when he came to Virginia and tried to go to Barnes & Noble. And he called me from Barnes & Noble, and said, 'I need your help.' [Riley's voice like Michael's trademark high-pitched falsetto] 'Get me outta here.' He was stuck in Barnes & Nobles, and it was the most incredible sight," says Riley. "I sent my guys over and they got him outta there."
Riley chuckles as continues his fantastical story of the King of Pop. In Virginia Beach.
"They raided his hotel, they went in his room unannounced. One of the people from the hotel gave the hotel key to a news reporter from WAVY-TV. It was crazy. They invaded his privacy," says Riley.
He says Jackson said he didn't want to stay in any more hotels in the area and asked if he could buy a house tomorrow for privacy, to which Riley replied in the negative. The producer did, however, manage to put Jackson up in what he called his "sanctuary," a senior citizen's subdivision where Riley had purchased a home for his mother.
Riley noted that one of his career's biggest highs, was, of course, working with Jackson on the Dangerous album. He said that the process was filled with days and nights in the studio—and hijinks, as Jackson was a huge prankster, who liked images of himself very much.
Riley refers to Jackson in the present, as if he is still in the moment with the King of Pop.
"Michael, he's just a character. He's a real character when it comes to the voice changes and the joking people. He's the biggest when it comes to pranks. Lot of pranks," Riley reminisces. "But I'm talking about like to a horror point. You'll be scared like out of your pants. He's crazy with it. He brought a lot the things that they use in the movies. Like, I don't know if you know the film, F/X, where that monster that comes to the door, he bought that. He bought the Bat-Man lifesize thing. I'm like, man. Every room (in Jackson's house) had a Michael Jackson or a life-size thing in there. Batman, Superman, him. A bunch of him."
As for that little thing that changed the course of music, touching all genres, Riley describes the sound he is credited in creating, New Jack Swing, as much more a sound or a way of interpreting music.
"New Jack Swing is a movement. It's a culture. It was a synergy for fashion, not just music. Fashion. Art. Comedy. It's high energy and happiness. We've created synergies to change people's lives and not let them give up," says Riley. "New Jack Swing was the music that really brought you happiness and joy; there are sad moments but those sad moments bring tears of joy. The Lord is real. Those songs saved a lot of people's lives."
After Michael Jackson, there was one more burning question I had to ask of Riley: "How do you keep your signature goatee maintained, and have you ever shaved it off?"
"I did. I shaved it off, I did the clean face," he shares. "But right now I'm maintaining this doggone goatee; it's acting right for me, it still grows. I do it myself. I learned how to groom myself, but I have barbers in my crew that are dope."
Riley's work continues to resonate and grow creatively. He revealed he's into K-Pop these days, working with groups such as BTS.
"It excites me because they [have] been inspired by us and our music," he says. "K-Pop started doing New Jack Swing but it was so carbon copy that they called people like myself and Will.i.am and Rodney Jerkins and Bryan-Michael Cox, and all of us would go to spread our love and culture. So K-Pop is coming up, you know?"
The maestro says he would like to also start to slowly get into country, EDM and Latin music, and goatee or no, we expect great things.
"We have so much coming," Riley promises. "Look out for it."