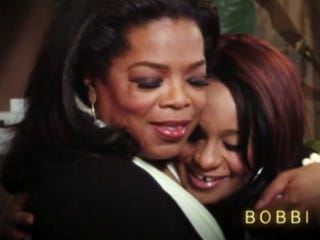 The Washington Post is reporting that Oprah Winfrey's interview with Whitney Houston's family netted the largest audience in the cable network's 14-month history. The interview, which garnered 3.5 million viewers, aired as part of OWN's Oprah's New Chapter.
From the Washington Post:
In Sunday's interview, Oprah stroked Bobbi Kristina's hair and gave her a hug as the teenager said she planned to follow in her mother's footsteps and become a singer and actress. She also told Oprah, "I slept in her arms all day, all night long," the day before the entertainer was found dead in Beverly Hills, Calif.
Houston was found dead in a bathtub in her Beverly Hilton hotel room Feb. 11, as she was getting ready to attend Clive Davis's annual pre-Grammy party downstairs in the hotel.

The 90-minute OWN broadcast also featured Oprah interviewing Houston's brother, Gary, as well as with the singer's sister-in-law and manager, Pat Houston.

Pat Houston told Oprah that although Whitney appeared to have her drug addictions under control, she became concerned again two days before Whitney's death, when the singer appeared disheveled at another Grammy walk-up party and got into a confrontation with "X Factor" contestant/former professional backup singer Stacy Francis. The press reported that Pat Houston ushered Whitney out of that party. An autopsy on Whitney Houston has been concluded, with results pending on the toxicology examination …

While some personal details from the interview were difficult to hear, it was good to see Oprah return to her roots and to finally learn the family's side of the story. We wish Bobbi Kristina and the Houstons the best.
Read more at the Washington Post.