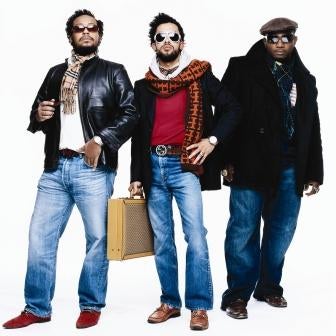 The L.A.-based trio SA-RA Creative Partners has been in the music game for nearly a decade, producing joints for Erykah Badu, Jurassic 5 and John Legend, and releasing cult, underground hit singles such as "Glorious" and "Fish Fillet."
The group—comprised of Om'Mas Keith, Shafiq Husayn and Taz Arnold—have a knack for mixing high-end glamour with lowbrow gulliness: twitchy synthesizer riffs, hazy retro-electronica flourishes, wayward rhythms, dark harmonies and cryptic lyrics that show their reverence for '70s P-Funk and '80s New Wave pop. 
This sound—and their elaborate '80s-inspired costumes—has earned them a name among the hipster press (Fader and Wire) a brief association with Kanye West's record company and a viral Obama video that earned them hundreds of thousands of page views.  
But no mainstream record release.  
All of this is to say that for SA-RA fans, Nuclear Evolution: The Age of Love (Ubiquity Records), their proper debut full-length national release, has been a long time coming. Unfortunately, Nuclear Evolution feels more like a mixtape than full-length album.
Beneath Nuclear Evoution's exciting sonic assault is a lack of genuine songcraft. As a result, the quirky sounds of Nuclear Evolution titillates but never wholly gratifies.  
On this album, SA-RA creates a dystopian universe filled with lecherous pimps and self-destructive wannabes. Pornographic imagery runs amok as SA-RA tosses throwaway lyrics such as: 
"Is it that I want you?/Or do I just wanna bone you?" ("Bone Song")  
"Wanna get in the groove girl and get with you/Maybe, we can just smoke up an ounce or two" ("Can I Get U Hi?")  
And "You and me/Two on One/Icky, licky, sticky fun" ("Gemini Rising")  
Unfortunately, SA-RA's romp through pimp lore gets increasingly yawn-inducing and unconvincing as the album goes on. By the time you get to "B**** Baby," one of the better cautionary tales about the misadventures of a drug dealer, SA-RA becomes way too "ironic at gunpoint" with the heavy emphasis on dark, ghetto underworld contrasting, knowingly, with their cosmopolitan flair for metrosexual fashion. 
The whimsical "Dirty Beauty" offers another cautionary tale about a would-be celebrity destroyed by fame and fortune. On "Traffika" they lament: "She used to be daddy's little star/Now she's sucking d*** up in the car."  
Not even the celebrity guest spots saved this album. Erykah Badu's appearance on "Dirty Beauty" is about as superfluous as Tyler Perry's cameo appearance in J.J. Abrams' recent Star Trek movie. Legendary jazz alto saxophonist Gary Bartz's guest spot on the song "Cosmic Ball" is a better showcase. But the song's whole conceit (a celestial jazz club? Really?) comes off so hokey that it probably would've made even Sun Ra, the original black space jazz pioneer, wince.  
Indeed, Nuclear Evolution is an unfortunate disappointment, considering all the hype and previous false starts. Three years ago, West's imprint, GOOD Music, was set to release Black Fuzz, SA-RA's first proper debut, but it was shelved. A year later, Babygrande Records released Hollywood Recordings, a scattershot compilation of previously released singles. With that kind of buildup, Nuclear Evolution should have had more impact. 
Perhaps Nuclear Evolution would have seemed cutting edge and provocative had it been released five years ago. Since then, like-minded artists such as J*Davey, Georgia Anne Muldrow and PPP—all of whom SA-RA have collaborated with many times—have released superior albums, making Nuclear Evolution all the more anticlimactic.  
Many ardent SA-RA fans will find it difficult to justify all the hype surrounding the group after the letdown of Nuclear Evolution. Even after numerous spins, the disc proves itself to be just noisily sleepy rather than an experimental sleeper.
John Murph is a regular contributor to The Root.