(The Root) — The much-anticipated cartoon version of Black Dynamite, the blaxploitation satirical film that hit theaters in 2009, finally made its debut on the Cartoon Network last Sunday. (The show is part of the network's lineup on Adult Swim, which is home to left field, adult animated programs like Aqua Teen Hunger Force and The Venture Bros.)
Back in 2010, an announcement was made that the film would be adapted for television, and ever since, fans have been wondering what happened. The wait is finally over, and Black Dynamite the cartoon is, in one word, hilarious.
The same characters and outrageous storylines from the cult film return to take on the fiendish Dr. Wu and his Ninjas (a cheeky play on the n-word), who are on a mission to dominate the world. In the midst of a fight between Black Dynamite (voiced by Michael Jai White) and Dr. Wu, Black Dynamite's buddy, the resident pimp Cream Corn (voiced by Tommy Davidson), bails on the squad — which also includes Honeybee (voiced by Kym Whitley) and Bullhorn (voiced by Byron Minns) — in order to befriend little Michael Jackson.
This isn't the little MJ whom fans remember from the 1970s cartoon. Here, he literally kicks ass, beating his father and older brothers into submission and terrorizing Cream Corn, who quickly realizes that there's something different about this little homie. Later it becomes clear that the eventual King of Pop is actually a devious alien who has designs of his own to rule the world.
Ultimately, Black Dynamite does the unthinkable and teams up with his nemesis Dr. Wu in order to take down the real threat: little MJ. Fans may rail against this portrayal of the music legend, but as is the subversive nature of good satire, any person (Jacko), place (Gary, Ind.) or thing (pop music) is ripe for ribbing.
This blaxploitation send-up has all of the stereotypical iconography and tomfoolery that you might find in films from the '70s like Shaft, The Mack and Dolemite. Black Dynamite hates "the Man," has a personal soundtrack that follows him everywhere and is a consummate lady-killer who exacts justice on anyone getting in his way.
G/O Media may get a commission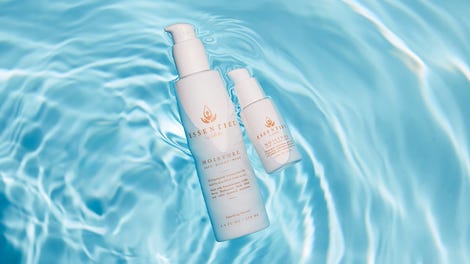 20% off
Essentiel by Adele
He uses a variety of tools — his mouth, his fists and a bunch of martial arts moves — to get the job done. Black Dynamite and his team speak "jive" ("I'll give you a Jackson 5 across yo' eyes") and ride around in a tricked-out Cadillac whose medallion is a velvet picture of a zodiac Afro diva, and their focus is on stopping danger in its tracks.
Blaxploitation buffs will laugh in delight as narrative and stylistic conventions of the genre reappear: Black Dynamite's multiple women, disco balls, bell-bottoms, hand-held cameras, Afros, urban settings, funk music, bad cops, good guys who do bad things, car chases, zodiac symbols and elaborately drawn-out fights over who will or will not control the world or his corner of it.
What's different about the cartoon is that the anime style is slick. (Carl Jones, who produced and wrote many episodes of The Boondocks, is also behind this series.) Unlike the movie, whose aesthetics borrowed heavily from blaxploitation films of the era, the TV show's creators are taking the production values to another level stylistically while staying true to the genre. Add in great comedic jokes and timing, and you've got a potential hit.
The animated Black Dynamite is not for the faint of heart or those who want to see only "positive images" of blacks on television. It is for those who like edgy comedy and entertainment that pushes the envelope. And just because it's a cartoon doesn't mean that Black Dynamite is for children of all ages. I repeat: Black Dynamite is not for children. Ya dig? Black Dynamite is baadasssss, and just what you'd expect from a program on Adult Swim.
Nsenga K. Burton, Ph.D., is editor-at-large for The Root. Follow her on Twitter.
Nsenga K. Burton, Ph.D., a media scholar, is digital editor in chief at Grady Newsource and a faculty member of the Cox Institute of Journalism, Innovation, Management & Leadership at the Grady College of Journalism and Mass Communication at the University of Georgia. She is founder and editor in chief of the award-winning news blog the Burton Wire. Follow her on Twitter here or here.