The Citizen's Office of Police Accountability has opened an investigation as a Black woman walking her dog along the lakefront in the Lincoln Park neighborhood of Chicago got into an altercation with a police officer at North Avenue Beach that was captured on cell phone video.

The woman is identified as Nikkita Brown, according to ABC News 7.
According to Brown's attorney, the altercation began after the cop asked her to leave the beach because it was closed. Looking at the video, the officer is seen threatening to arrest Brown if she doesn't leave the beach but she appears to be trying to leave. As the officer advances towards her, she asks that he respects her face because of COVID-19 and he is not wearing a mask.
The officer responds that he is outside, so he doesn't need one. He is seen advancing towards Brown and the dog for at least 20 seconds as they appear to walk away. As the Chicago Tribune reports, the cop seems to be trying to take her phone away from her and then trying to restrain her arms. They start spinning around until he has her arms held behind her back and holds her in that position for a minute or so. He lets her go and they both walk away from each other.
During the exchange, Brown is heard screaming for help repeatedly in a video that someone from a distance captures on their cell phone.
G/O Media may get a commission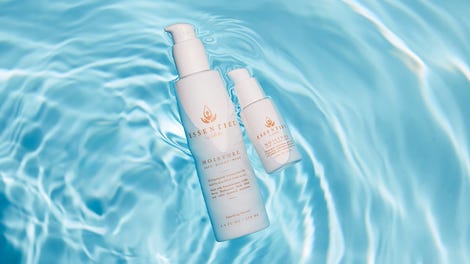 20% off
Essentiel by Adele
"For some reason, this officer decided to specifically interact, and then ultimately address and attack Ms. Brown," said Keenan Saulter, the woman's attorney.

Saulter said the incident was "a brutal and unprovoked attack," adding that Brown was leaving the beach when the cops put his hands on her.
"She was always in the process of leaving," he said. " She was always walking out of the park."
At a Monday press conference, Chicago Police Superintendent David Brown addressed the video.
"What we do know is there was some closure of the beach, apparently, that preceded this interaction," Superintendent Brown said, according to ABC News 7. "That is the extent of what we know. We don't have an arrest apparently by this officer and don't fully understand because we have not interviewed this officer and COPA will be in charge of that interview. I believe COPA has reached out to the person you see on video walking the dog that had a struggle with the officer. I believe they are initiating that conversation."
From ABC News:
Superintendent Brown said there is also video from the officer's body camera. The superintendent also asked the public to withhold judgement until the Citizen's Office of Police Accountability can complete its investigation.

Once that's complete, Superintendent Brown can accept COPA's recommendation or make a different decision of his own that would be reviewed by the board.

As COPA investigates, Brown can either relieve the officer of his police powers or place him on administrative duties. He expects to decide after receiving another update on the investigation later Monday.
Chicago mayor Lori Lightfoot said in a tweet that "I am deeply concerned by what is depicted on the lakefront beach in that video. I am aware of the incident and it is currently under investigation."