A former Stanford student-athlete has alleged that 1 OAK, a New York City nightclub that has played host to a slew of celebrities, refused her entry July 26 because she's black, Radar Online reports.
The woman, who spoke to Radar Online anonymously, said she visited the club because she knew the promoter. When she and her two girlfriends, one white and one black, reached the bouncer to show their IDs, he told the white friend to enter, but then barred access to her and the black friend, saying, "Sorry, ladies, not gonna happen tonight," according to Radar Online.  
"We continue to stand there for a couple minutes, slightly confused," she told Radar Online.
To add insult to injury, the bouncer then provided entry to the rest of the members of their group—all of whom are white.
The two black girls started to notice a pattern: The bouncer didn't seem to discriminate against white patrons, "some with purple and orange hair, some with flats on and some severely underdressed for a club," Radar Online's source said.
G/O Media may get a commission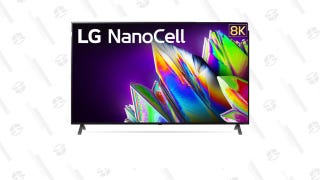 LG 75-Inch 8K TV
The club has been accused of discriminatory practices before. In 2008 the luxury club, located in the Chelsea neighborhood, was sued by two former employees who claimed they were fired because co-owner Scott Sartiano "did not like black and Asian people, and Mr. Sartiano had a fear of Asians and blacks," reports Radar Online.
Also, they alleged, 1 OAK "fired all four of its black or Asian employees who worked on the floor serving drinks," Radar Online notes.
In a statement to Radar Online, a representative defended the club, which has locations in New York, Las Vegas, Los Angeles and Mexico City, saying that the establishment is "anything but racist," and adding that it has "a strict door policy that sees many men and women of many ethnicities get turned down … at the doorman's discretion."
Although 1 OAK said it takes customers' complaints seriously, it has called the allegations of racism "a severe case of sour grapes from someone who has never seen the inside of 1 OAK," Radar Online reports. 
Read more at Radar Online.