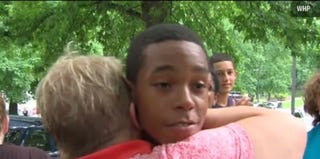 In the eyes of 5-year-old Jocelyn Rojas and her family, Temar Boggs is a hero. Temar and a friend rescued the little girl after she was snatched from in front of her Lancaster, Pa., home last Thursday.
According to a CNN report, the two teens sprung into action once they heard that the little girl had gone missing two hours earlier. The two African-American boys took off on their bikes to patrol the neighborhood and eventually spotted Jocelyn in the passenger seat of a car being driven evasively.
"Every time we'd go down the street, he'd turn back around, and then … we'll follow him," Temar told CNN affiliate WGAL.

 The two teens chased the alleged kidnapper on their bikes for 15 heart-pounding minutes. The driver apparently knew he was being followed and gave up.

 "He stopped at the end of the hill and let her out, and she ran to me and said that she needed her mom," Temar said …

Although the suspect remains at large, Temar feels good about finding Jocelyn.

"I just feel like I did something very accomplishing today," the teen said.

The girl's family couldn't agree more.
Read more at CNN.
Like The Root on Facebook. Follow us on Twitter.