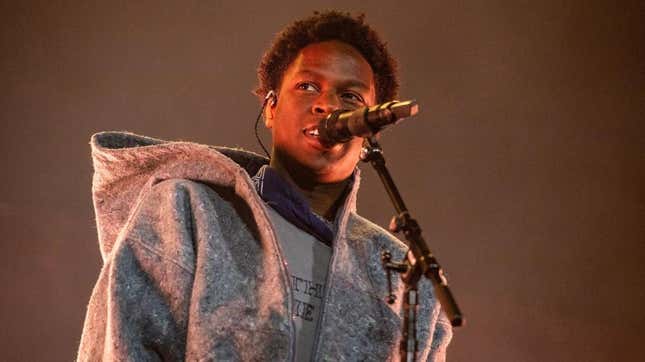 It's been a long four years for Canadian R&B artist Daniel Caesar. Months before releasing his sophomore studio album Case Study 01 in 2019, the "Get You" singer was canceled by many in the Black community after he made some controversial comments.
But, following the release of his third studio album, NEVER ENOUGH, over the weekend, Caesar is apologizing for his past comments and Black folk are questioning if they should listen to his music again.
What got Daniel Caesar 'canceled'?
In March 2019, on Instagram Live, Daniel Caesar went on a rant defending white social media influencer YesJulz and condemning others in the Black community for going at her.
At the time, Julz was often criticized for exploiting Black culture and received some hate after she attacked Black media personalities, Karen Civil and Scottie Beam. The controversy reached its peak after a screenshot resurfaced of the white influencer sharing a t-shirt that read, "Niggas lie a lot" across the front, and asking her following if she is allowed to wear it at a festival.

In response, the Canadian R&B singer defended Julz, saying on Instagram Live, "Why are we being so mean to Julz? Why are we being so mean to white people right now? That's a serious question. Why is it that we're allowed to be disrespectful and rude to everybody else and when anybody returns any type of energy to us. That's not equality. I don't wanna be treated like I can't take a joke."
He later continued, "White people have been mean to us in the past, yeah, but what are you going to do about it? Tell me what you're going to do about that? There's no answer, other than creating and understanding and keeping it moving. You have to bridge that gap."
Following his defense of YesJulz, he challenged Black people to "cancel" him. In response, they did, not supporting his sophomore album as much as his debut project and going at everything relating to the singer, especially the gap in his teeth and his looks.
Why is he apologizing now?
Althought he initially apologized just days after his Instagram rant in March 2019, the Canadian artist apologized again on in an Apple Music interview released on Friday.
During the interview, the "Best Part" singer said, "I completely understand the response," referencing the Black communities anger after he defended YesJulz and insisted that they cancel him.
He later continued, "And in time, after taking time to get over myself and to really honestly look at myself and everything that was happening, I was wrong. I was wrong, and I'm sorry about that."
It seems that time has given Caesar time to reflect and he's realized the error of his ways. But, will the same Black music fans who criticized him four years ago forgive him and start to enjoy his music again?
According to Black Twitter, many never stopped listening, and others totally forgot why he was canceled in the first place, since his new album, NEVER ENOUGH, is being received so well.
It seems that good music will heal all for those who just love soulful vocals and well-written music.