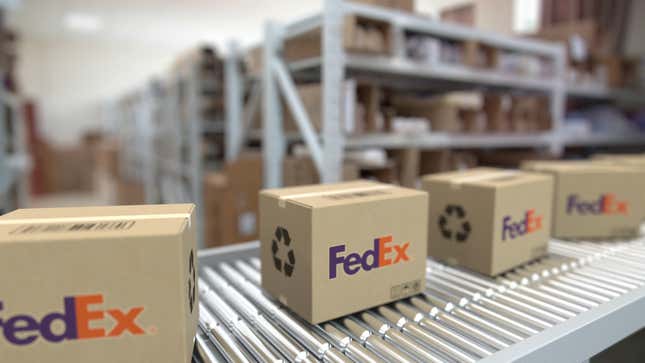 ATL Uncensored Twitter recently shared a viral video of a Black FedEx worker who was subjected to racist threats by a white man during a stop in an Atlanta suburb. Somehow, the employee managed to keep his composure. The video, which was posted on Twitter, has now been seen almost six million times and is half a minute long.
Small Town Horror Story: The Racist Attack Of A FedEx Worker
Many who saw the video commented on the driver's ability to keep his cool. To summarize, the white (and bafflingly barefoot) customer calls the worker several racial slurs including the n-word. He then threatens to fight the driver if he runs over his dog, which can also be seen in the video.
"You stupid monkey. You a dumb n*****,' he said, which can be heard in the footage. "Go ahead and park. You want to f*** around with a white man? You run over my dog and I'll show you how little Black lives matter."
The FedEx employee laughed, stated he wasn't going to run anything over and records the entire incident. As the racist walks up the driveway back toward the house, the driver remarks "Welcome to Facebook" before the footage cuts off.
In an email, FedEx told Newsweek that they will review "the circumstances" behind the exchange. Are there any justifications to call a Black person the n-word, though?
"At FedEx, we believe that everyone deserves respect. The behavior depicted in this video is highly disturbing. The safety and security of our team members and service providers is a top priority and we are reviewing the circumstances behind this matter," a spokesperson explained to the publication.
This isn't the first time FedEx employees have been forced to deal with racist encounters. Last year, D'Monterrio Gibson was racially targeted by two white neighborhood residents as he made his FedEx deliveries. In 2022, Jennifer Harris, a former Black FedEx employee, was awarded over $300 million in a discrimination lawsuit against the company.