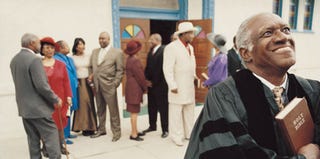 The introduction of a far-reaching wave of state laws that will make voting in the 2012 election much harder than it's ever been in the past has been characterized as a "war on black voters" and likened to Jim Crow.
Much of the legislation is being challenged in the courts, but meanwhile, black churches are advocating for African-American voters in their own way: They've committed to doing their part to make sure as many of their members as possible are prepared to go to the polls. And what better time than Easter Sunday to make good on that promise?
From the Christian Post:
A coalition of African-American clergy has announced a project titled the Empowerment Movement, an effort to register one million black Christian voters on Easter Sunday.
The group chose Easter Sunday as its goal day because many more people attend church services on Easter than at any other time of the year. They are looking to get at least 20 people at each of the 500,000 black churches to sign up in time for the 2012 presidential election.
The Empowerment Movement is led by Dr. Jamal-Harrison Bryant, who is the pastor of the Empowerment Temple in Baltimore, Md. Bryant met with other black clergy members of various denominations to discuss many issues, from high African-American incarceration rates, to restrictive voter I.D. laws. At the meeting, leading black clergy found a need for massive action, as they claim the black church community contains over five million unregistered voters.
Bryant believes the under-registered black Christian population is an issue that must be dealt with by working together, across denominations.
Read more at the Christian Post.