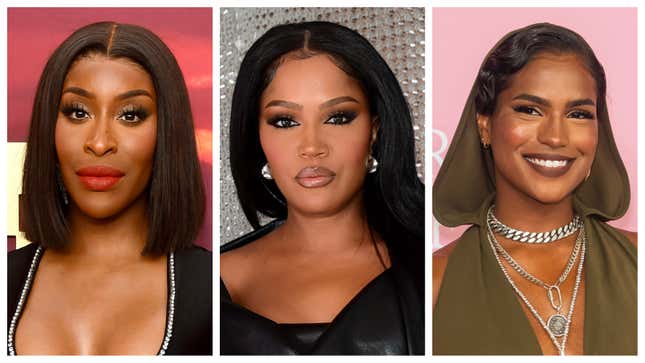 As Beautycon 2023 prepares to take over Los Angeles after a four-year hiatus, we'd thought it'd be best to highlight some of the beauty and makeup influencers you meed to know.
Ain't No Mo' Star, Marchánt Davis, Plays That's So Random
While this year's festival is sure to pack in the heat with influencers like Raye Boyce and Nyma Tang and feature special guests like Marsai Martin and Saucy Santana—with the help of these influencers, you can bring slay everyday.
So let's kick things off with...
Jackie Aina
"Jackie, Jackie,Jackie,Jackie! Jackie,Jackie,Jackie,Jackie,Jackie,Jackie,Jackie,!" (if you know, you know.)
There's no way you can sit here on Blue Ivy's internet and call yourself a student of the MUA YouTube school without knowing who the O.G. Jackie Aina is. When I was first getting into makeup and specifically looking for darker-skinned girls to learn from—Jackie was there, in all her melanin glory teaching me where to put my matte shadows vs my shimmers. She was there to teach me the difference between liquid foundation and powder. And she was also there to give me a laugh while doing so.
Now, years later, she's still teaching makeup tips and tricks and how to live a bit more lavishly and for that, I thank her.
MakeupShayla
There's a lot to be said of Shayla Mitchell, a.k.a. MakeupShayla. She was one of the very first MUAs and beauty influencers I ever followed and I've been a loyal YouTube/Instagram/ and now TikTok watcher for as long as I can remember.
Whether she's showing me how to properly contour my nose, line my lips to get the perfect pout, or how to smudge my under-eyeliner to get the smokiest smoky eye, Shayla is one of the top-tier O.G.'s of the YouTube Beauty community just like Jackie and she will forever be my G.O.A.T. Nothing but respect for my Pretty President.
Monet McMichael
Bestieeeeeeee! Sorry, but that's just how I feel everytime I see Monet McMichael pop up on my For You Page on TikTok. She's like the girl in your friend group that you always wanted to do your makeup because she's so good at it. She's also gotten deeper and deeper into her beauty and style bag over the last two years and seeing her shine warms my heart as if she was blood forreal. Keep at it, girliepop.
Vanessa Gyimah
Though Vanessa Gyimah may have joined YouTube in 2011, it was her creative Instagram content that continued to catch the eyes of beauty lovers all over the world. From festive holiday looks to themed ones, Vanessa is all hits, no misses and helps remind us all to keep the fun in makeup.
Miss Evelyn
I'm not usually one to get envious but if I had lips like Miss Evelyn, y'all would get endless lip combos from me too. And the thing that also makes her looks pop? The fact that she seems to always have the perfect lippie no matter what her eye-makeup looks like.
Lawrencia Lovette
Lawrencia Lovette has been one of my go-tos for makeup looks for the last five years at least and much like the aforementioned women—she's rarely let me down.
Uche Natori
Uche, Uche, Uche! Where do I even begin? Much like Lawrencia, if there was any girl I wish I could do my makeup like everyday, it has to be her. The way her looks accentuate her naturally beautiful facial features are just immaculate.
Kam Gregory
Though I hadn't come across Kam Gregory before the pandemic, I am grateful that that time in quarantine led me to *finally* creating a TikTok page and finally discovering her makeup talent.
Makeup by Germany
Admittedly, Germany Limehouse—or as she's known on social media, Makeup by Germnay—is a newer discovery for me personally. But as the saying goes, better late than never. I've found myself returning to her IG and TikTok pages very frequently since I first came across her page for inspo and product recommendations, so it's safe to say she's got a new fan.
Aaliyah Jay
If you've been on #MUAYouTube or #MUATwitter long enough, then you know Aaliyah Jay like the back of your own hand. Not only has she ben serving looks, she's also been like our makeup bestie next door, too.
Alissa Ashley
You can't call yourself a beauty guru or a beauty enthusiast without knowing who Alissa Ashley is. Along with Aaliyah, Jackie, and Shayla, Alissa has been in the game for a long time and been looking beat ever since. And even when she took a short break from YouTube, we welcomed her back with open arms—and an open wallet too, because sis rarely ever steers us wrong when it comes to the products.
Meghan Owens
One of the things I love most about Meghan Owens or as she's better known on IG and TikTok, Meghan B Studios, is that she shows you how to take those glam looks you see on celebs and recreate them for you. And while it may not be a 100% match, its just the right amount of information and instruction to have you looking red carpet ready, too!

Princess Kae
Another one of my faves, Katrina Duckett consistently proves why she needs to be one of your essential go-tos for neutral, glam, or everyday looks.
Bernicia Boateng
There's a reason why Bernicia Boateng has her own studio and that's because she's gifted with the brushes like no other. And she consistently serves good looks for all the darker-skinned beauties, too!
Tamara Renaye
If there's three things you can count on Tamara Renaye for its: snatched eyebrows, a fire soft glam look, and smooth nude lip combo that puts all others to shame.