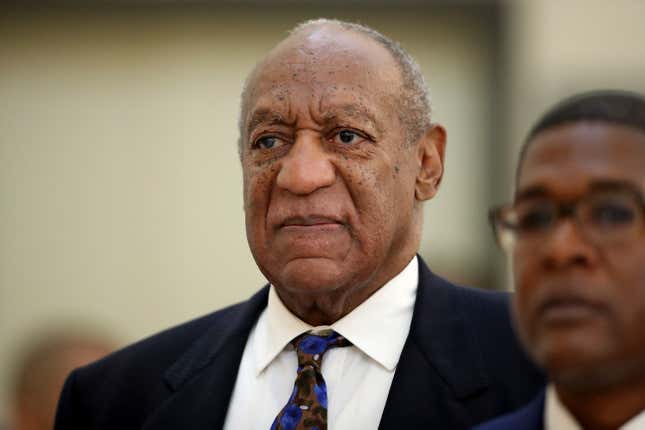 Trigger Warning: This article includes mentions of sexual assault, rape.
Bill Cosby may be trying to forget that he's an accused sexual predator, but his alleged victims never will. Singer Morganne Picard has filed a lawsuit against The Cosby Show star under the Adult Survivors Act. Per court documents filed with tje Supreme Courts of New York State and County, she alleges that when she "drank a beverage provided by Cosby and blacked out, Cosby raped or otherwise sexually assaulted her, without her consent."
Cosby Show & The Resident Star, Malcolm-Jamal Warner, Plays That's So Random
The suit goes on to allege that she "drank a beverage provided to her by Cosby at his home, and awoke to find herself in a hotel room, naked, with soreness in her vagina."
"Cosby knew Ms. Picard was incapacitated and could not consent, and he intended to sexually batter Ms. Picard with a complete disregard of the physical and emotional trauma caused to Ms. Picard," the lawsuit reads.
Picard is suing Cosby for battery, assault and intentional infliction of emotional distress, and co-defendants Kaufman Astoria Studios, Astoria Studios LP II, the Carsey-Werner Company and NBCUniversal for negligent hiring and negligence. The lawsuit alleges that the studios didn't "investigate, reprimand, supervise nor in any way try to stop Cosby from sexually abusing, assaulting and/or battering women."
Cosby's representative, Andew Wyatt responded to the new allegations in a statement to People, saying, "It is disappointing to see that these alleged distractors are able to monetize false allegations against Mr. Cosby."
"Mr. Cosby continues to invoke his Constitutional Rights by saying, 'Not Guilty' and vehemently denying all of these alleged allegations waged against him," Wyatt continued.
Picard's suit comes just a month after former Playboy model Victoria Valentino filed a civil suit alleging that the comedian "drugged and raped" her in 1969 after she and her roommate went to dinner with him. Her lawsuit also comes as a result of the the Adult Survivors Act, a New York law that allows a one-year window for "survivors of sexual assault that occurred when they were over the age of 18 to sue their abusers regardless of when the abuse occurred." In December, five women used the law to file a sexual abuse lawsuit against Cosby, Kaufman Astoria Studios, Astoria Studios LP II and the Carsey-Werner Company.
Bill Cosby's criminal case may have been overturned, but his victims are clearly still working through the system to find a way to get some semblance of justice.